With 16 years Experience as a Special Effect Designer with Low Smoke Generator effects, Cold Flow, Cryo Fog, CO2 FX and Crawling Low Lying Smoke Effects. We have a large supply of LSG machines with a big inventory of accessories (floor pockets), and a selection of fluids to do cryo curtain effects, ballroom door entrance fog curtains. We do more large corporate event with low lying ground smoke, special effects cryogenic curtains, crawling fog than most any other FX supplier. We can trick-out the gear for custom effects. We can fill a ballroom, ice rink, air plane hanger with low lying smoke and keep it on the floor for long periods. Let us create a walk in on clouds for your corporate event indoors or outside We understand How the system works best. We also have traditional dry ice effects. We offer 4 types of chill effects.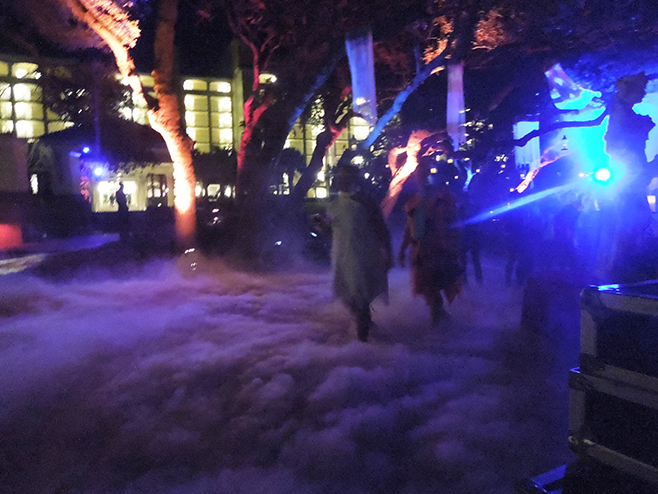 Our Technicians will adjust the cryo machines so your Guests will feel like they are walking on a cloud as they enter the room, with or haze no smoke or haze in the air. The quick Fast Dissipating smoke fluid with no haze - no smoke in the air. Will not set alarms off.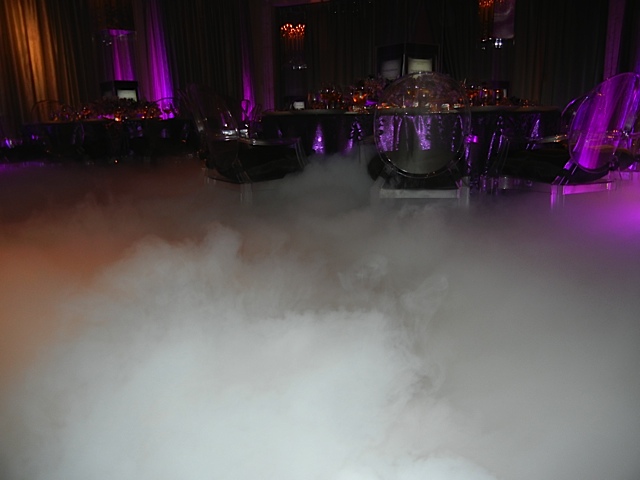 We can cover an entire ballroom floor, stage deck or just by the ballroom entrance doorway for a walk-in WOW effect of cryo CO2 low lying crawling ground smoke effect. We can make our cold flow fog into a walk-in overhead curtain effect in any number of configurations and can cover the length of the largest of stages.
Cryo LSG - Low Lying Smoke Special Effects at Corporate Convention covering a 40x60 stage at Coronado Springs Resort Disney.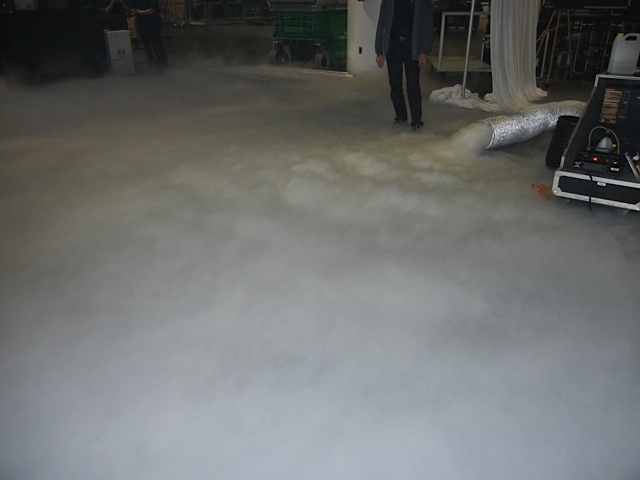 Testing the Cryo CO2 LSG backstage.
Special Effects Low Lying Crawling Smoke and Fog Effects Specialist from N.Y. to LA and and based in Florida Tampa - Orlando - Miami - Naples
Transform your corporate stage into a Concert Stage Show for a moment in time.
Servicing Events Nationwide with the Biggest Volume and Best Cryo Fog Effects Machines for the Entertainment Industry.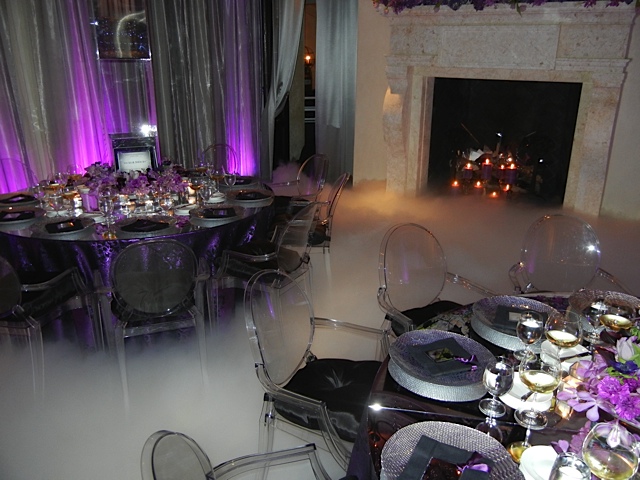 Professional Low Lying Fog LSG machines and Low Crawling Smoke Effect Specialist Since 1996
We have the right size gear for any size job.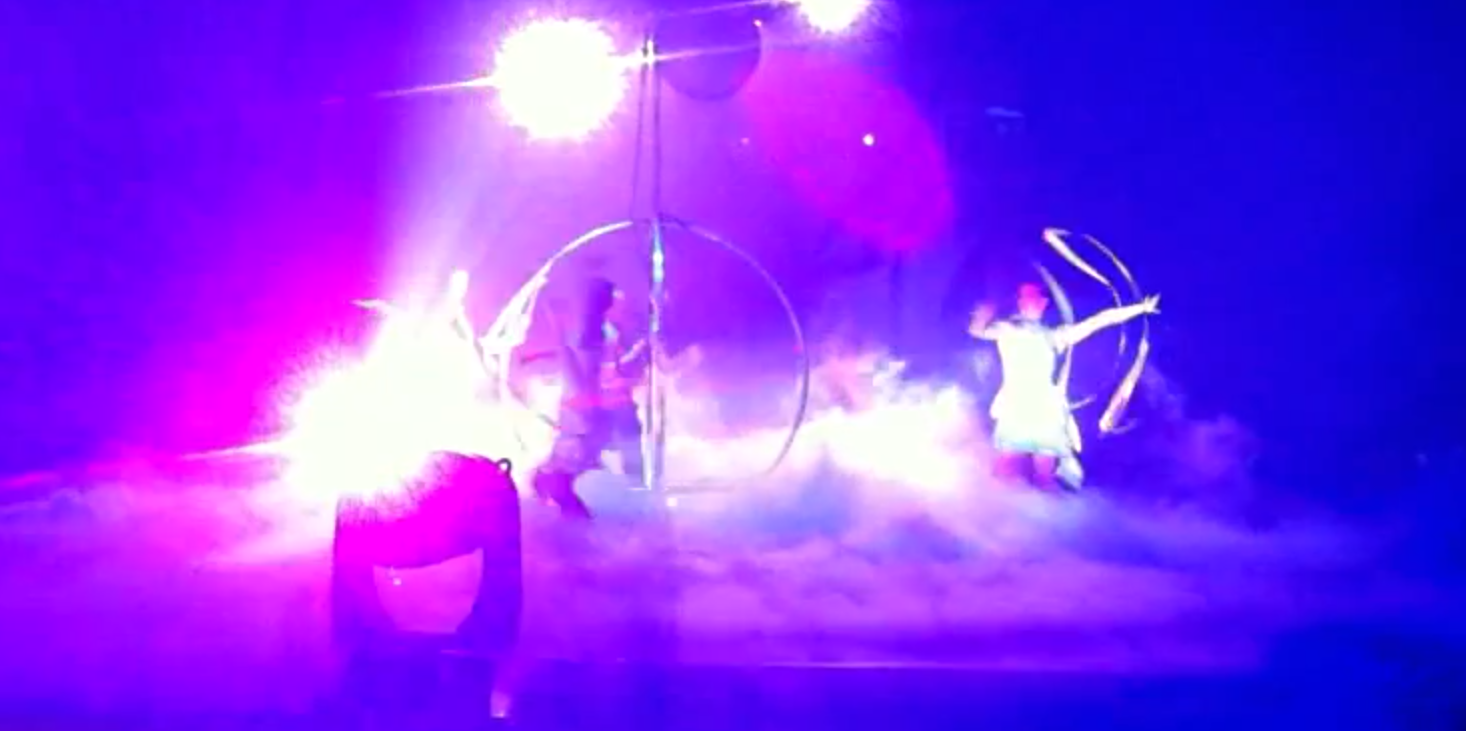 Transform your corporate stage into a Las Vegas Show for a moment in time.
We are very experienced in providing special effects cryogenic applications for live events. We have provided these effects countrywide for the past 16 years. We were doing cryogenic effects just about before anyone else in the industry and we are called upon to create some of the largest LSG Cryo effects in the industry. The can do low lying or crawling fog floor effects, cloud effects, cryo curtains or walls, floor pockets, reveals, outdoor scenic atmosphere smoke effects.
We have many options of low lying fog/smoke machines and many different type of machines. Now we have different:
Le Maitre's low-lying molecular fluid fog with a very short hang is the old standard.
Fast - Indoor Ground Fog
Fast Dissipating Fog - INDOOR Ground Fog Fast Dissipating Fog Juice is the perfect Stage & Studio Fog Fluid for use in Theatrical Environments where a great fog effect is desired but the fog does not need to linger. This blend works perfect for use in the motion picture industry and is now extensively used for many other applications. The normal fluid used Lasts under a minute.
Cryo Freeze - Stage Low Lying fluid lasts longer
Indoor Cryo Freeze is the designer's choice when it comes to a very active stage in theater or ballet. This fluid creates a very dense effect that hugs the ground. Dancing on the clouds as it last 30 - 45 sec cycle. The newest fluid.
OUTDOOR Ground Fog - Freezin Fog builds high
OUTDOOR Ground Fog - Freezin Fog is a water based fog machine fluid formulated to create optimum low lying fog effects for outdoor scenes where knee deep to hip deep high fog is the look. It is super thick on the front end and creates the perfect graveyard ground fog but here comes the good part; it is formulated to hang in the air to create a long lasting scene. Indoors it layers up on each other and build up.
They are made from the highest quality pharmaceutical grade chemicals and with the amazing results you will see from these fluids do low lying or crawling fog floor effects, cloud effects, cryo curtains or walls, floor pockets, reveals, outdoor scenic atmosphere smoke effects.
Walk on a cloud Defying Gravity as seen from this scene from Wicked show piece.
Low-Lying Fog or freezefog has always been a challenge for show producers who work in theatrical productions, sporting events, business theater, theme parks or touring shows. We have the solution for superior performance for Low-Lying Fog effects. Our expertise using the Cryo LSG, Cold Flow System allows us to provide you with produce huge volumes of pure white fog crawling ground smoke continuously with a push of a button. It's economical too; the expendables operating costs are only about $3.00 per minute of operation!
Liquid CO2 is used in certain fog machines creating thicker, more consistent low-lying fog effects. "This is truly one of the most extreme and impressive special effects that can be accomplished outside of any governing regulations. When used correctly and all precautions in mind, this is a very safe effect that can be used over and over again without incident to produce a truly awe inspiring effect."
This long lasting low lying fog effect that always remains low to the ground traveling up to 40 feet residue free and does not need the fire alarms turn off. The CO2 disappears in seconds leaving once shut off and leaves no trace particles of smoke, we will never set off a smoke alarm. The machine was engineered and designed to operate to never release any smoke that could set off an alarm. We leave the room clean from smoke.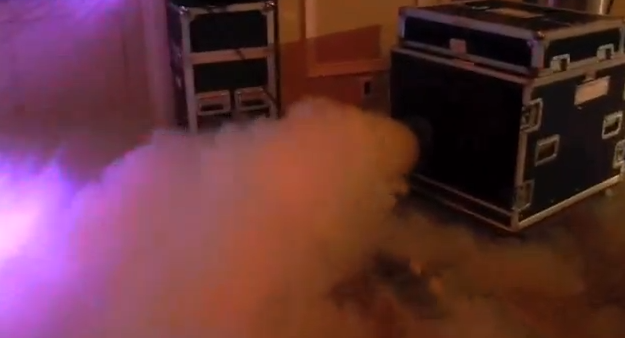 We can cover a hotel ballroom entrance for a wow factor with a walk in .
Crto CO2 LSG Smoke at a Trade Show Entrance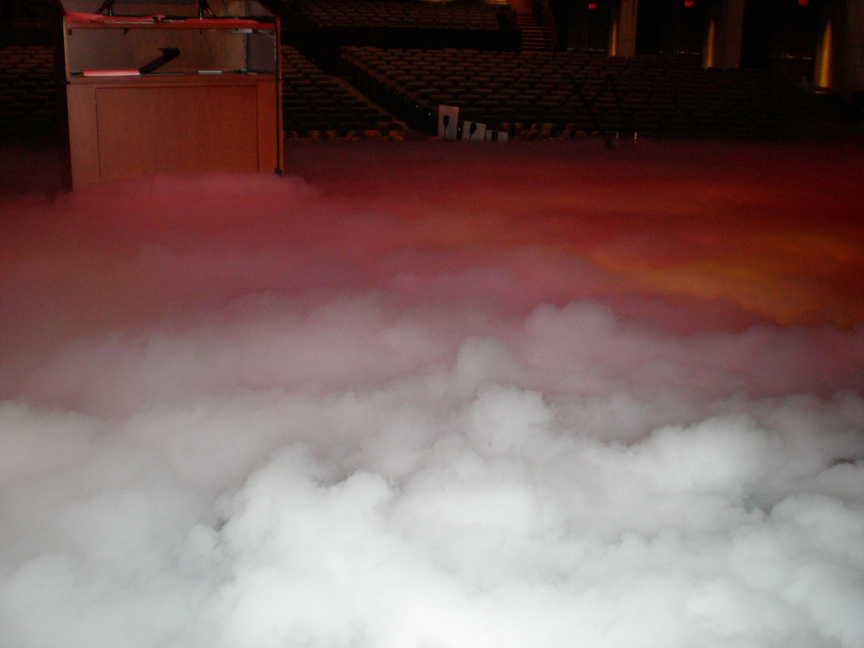 A Popular effect that is was seen on TV Shows like American Idol finale and America Got Talent 2009 - 2010.
Ideal for large coverage of sport arena, stage productions, touring Broadway shows, hotel ballrooms and film productions We can provide entrance curtains at doorways for conference attendees can walk through the cryo effect.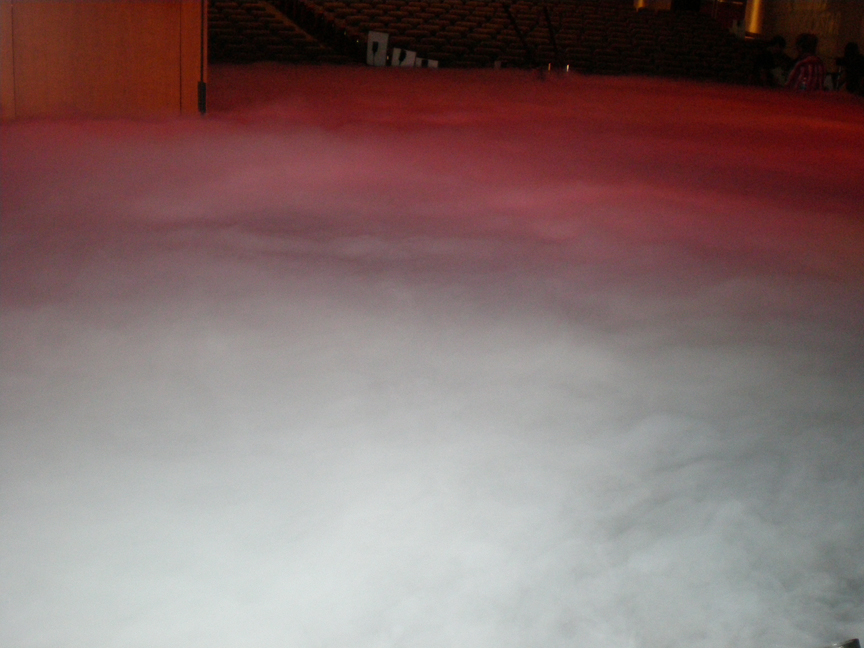 Why use cold flow? Most use the cold flow as a surprise element to an over all theme. It's a theatrical effect used on Broadway shows and its very dramatic. It can change the look of a room and allow the audience to forget they are in the same space for the evening party as the opening session.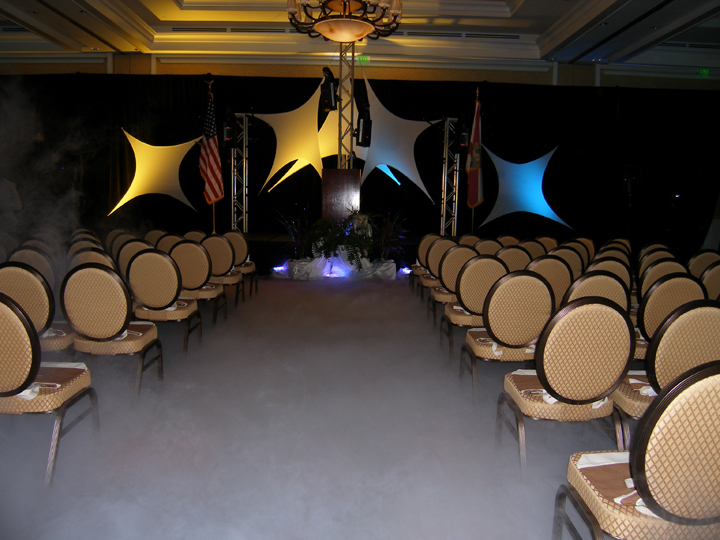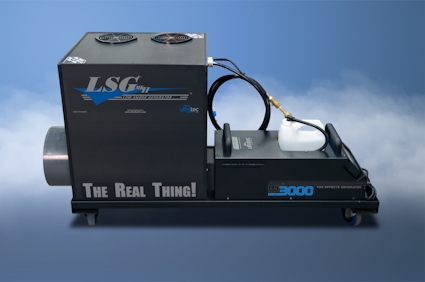 A great match with our snow effects for that frosty look any time of year.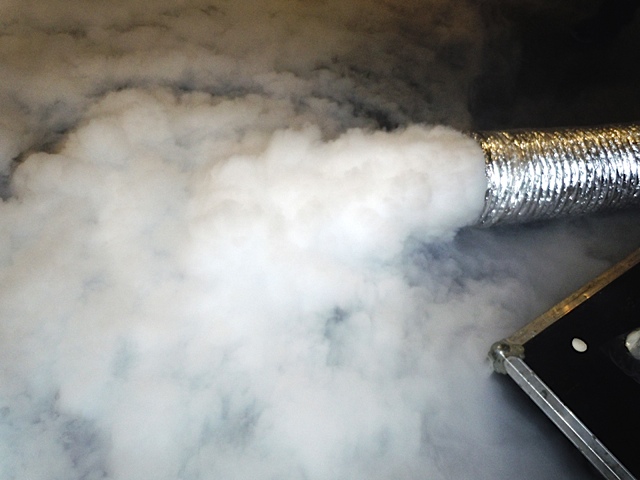 We offer full service or rental services of the LSG Cold Flow equipment.
Call 813 689 6269 zigmont@effectspecialist.com
Please view all the photos and videos
We have and offer professional brands industrial low crawling smoke machines, as well as dry ice low lying fog generator machines to consumer performance low smoke machines. The difference is in the amount of cryo smoke that is produced, the distance the low lying smoke travels and how deep the effect is ankle to knee deep. The cooler the smoke and better the effect. So a machine using a liquid cO2 dewar tank is better that dry ice. Dry ice is better that using a machine with regular ice.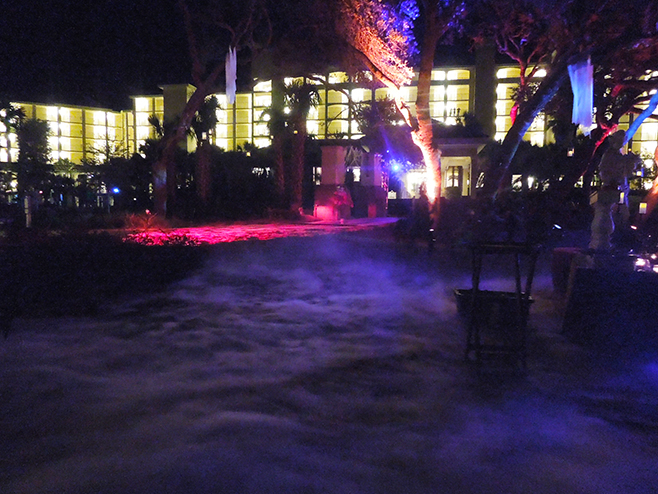 Low lying fog is also used to convey water, ice & snow and to hide stage rigging for moving scenery effects on the stage deck. When the Phantom boats Christine away to his lair underneath the Paris Opera House, the boat is 'floating' on fog and it's low-lying fog covering up the wires pulling the boat along.
Another clever use for low lying fog on stage is to add a 'foggy day' look to your city-scape backdrop.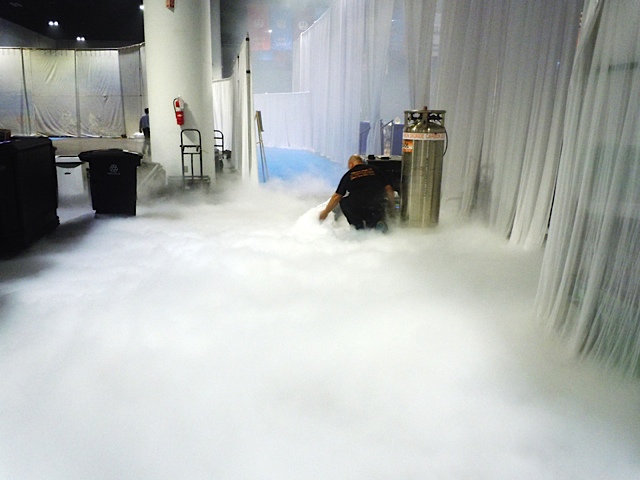 You seen our brand of LSG machines that we offer, used on America Got Talent TV Show.
We can do outdoor with a simple barrier for containment.
We can cover an entire ballroom with low lying ground smoke. This room is using 6 LSGlow lying machines.
We are fully insured with a million dollar + public liability policy for special effects, make sure the company your hiring has insurance.