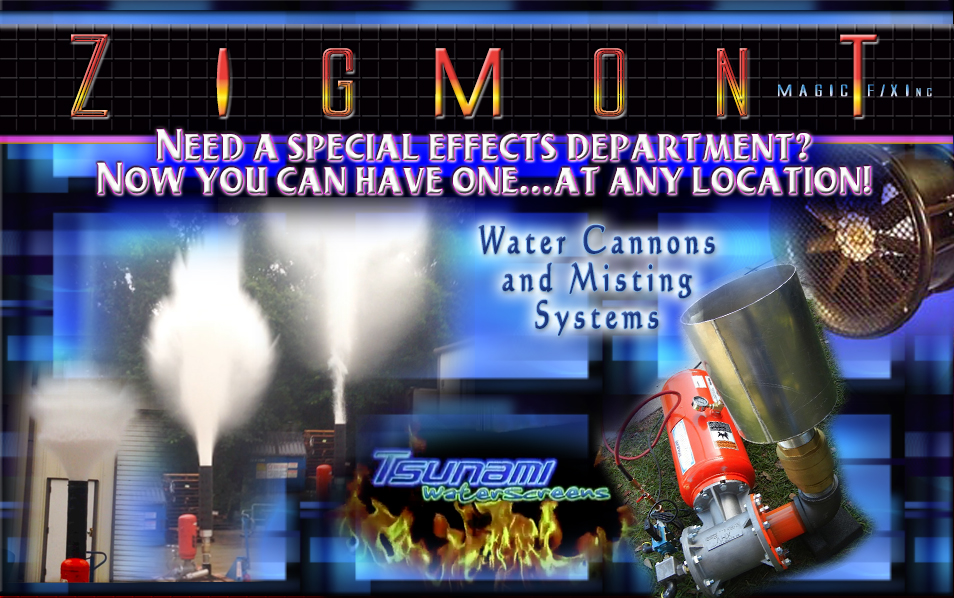 The Biggest Custom Cannon Efffects in the FX Industry
Now with BIG CANNONS - Big Water Cannon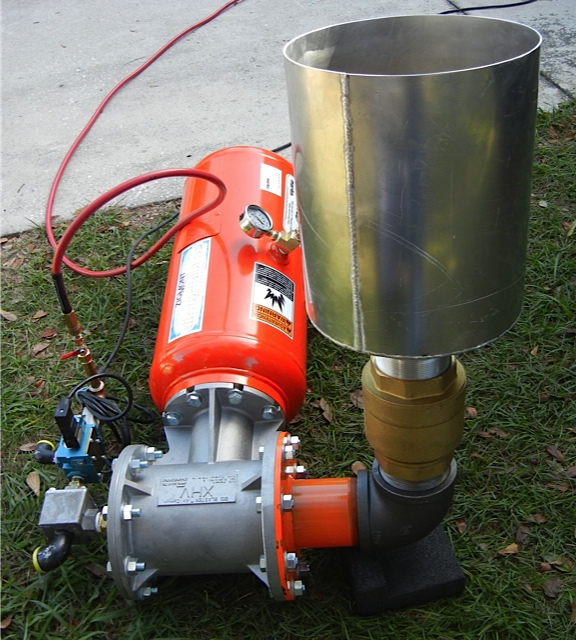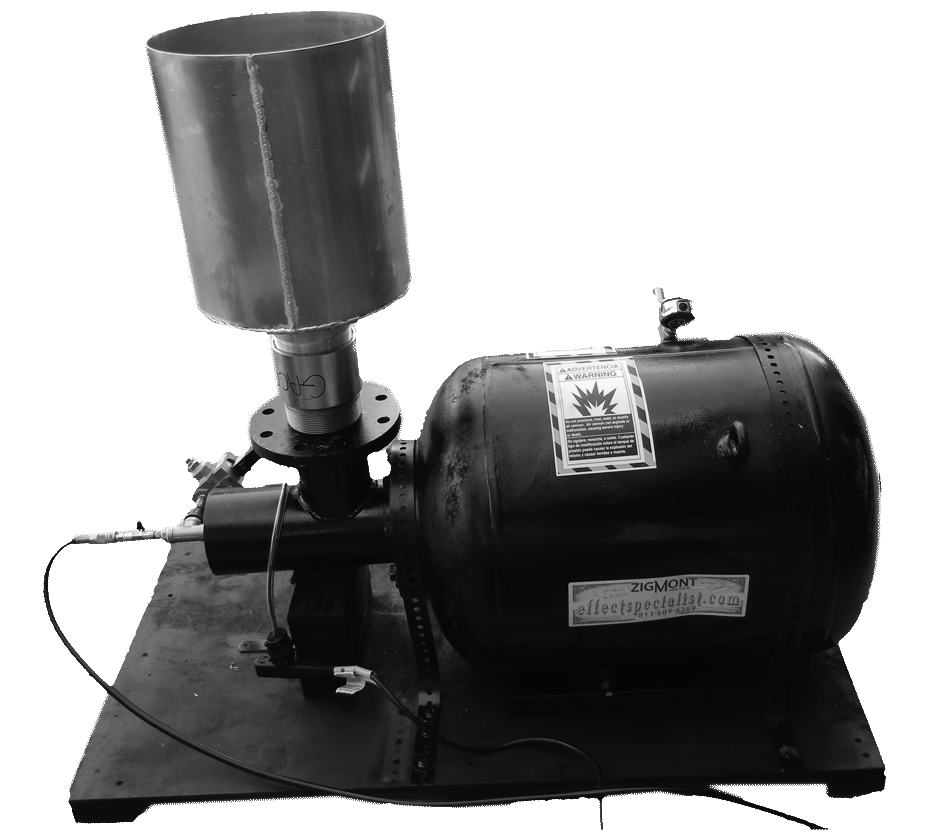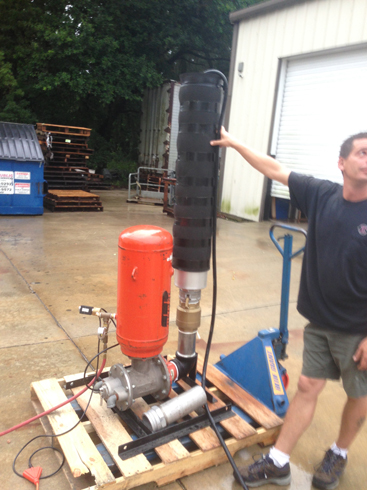 Geysers Water Cannon Effect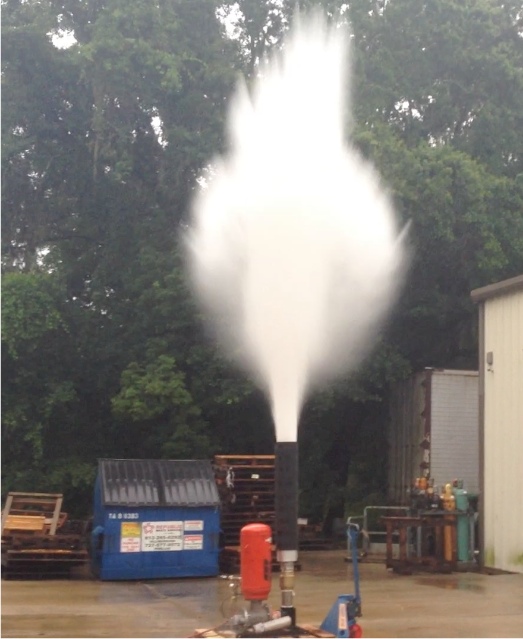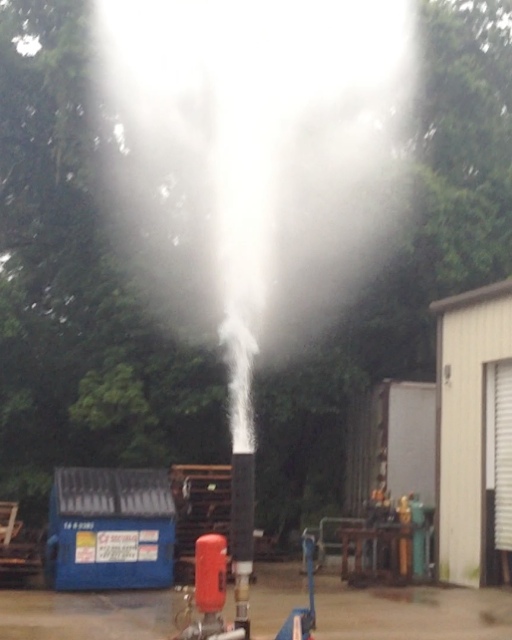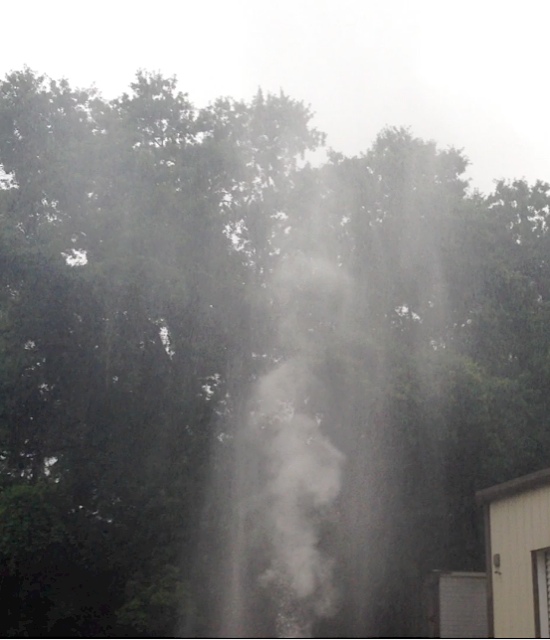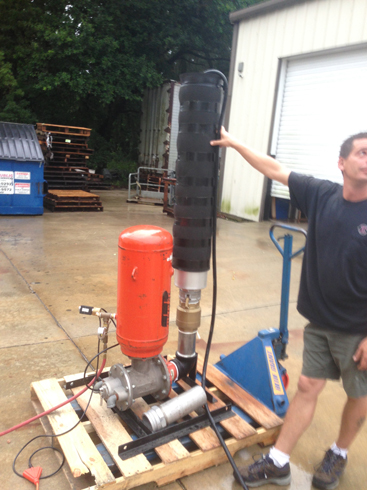 We can supply water effects for your property see demo above.
A water cannon are usually used to simulate explosions in water. We offer many different types and sizes of these effects. These cannons can be piped into water so that the output nozzle is just below the surface of the water. They remain unnoticed until.....BOOM! .....the water explodes. The effect is quickly recharged and ready for another blast. Since they are not pyrotechnic, they are very economical to operate.
Compressed - air special effects mortar for low-budget filmmakers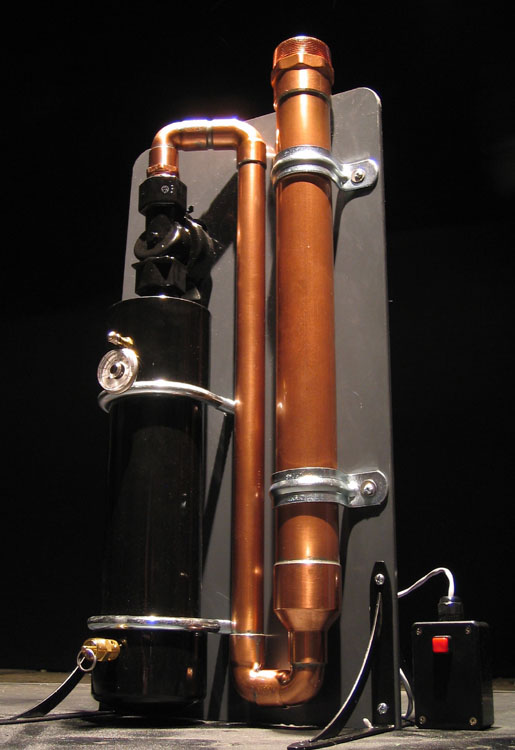 The Thunder launcher FX-1 is a pneumatic launcher designed for special effects, A compressed-air special effects mortar for low-budget filmmakers! Easy to use and extremely versatile! Remote operated explosion and other FX can now be done right on location and right on cue -- without explosives! Dirt, dust, blood, water, brains, debris -- the Thunder launcher FX-1 can handle it all, over and over! Reusable and sturdy, the Thunder Launcher FX-1 fills with a simple air compressor (or even a bicycle pump!) and will blast whatever you need on command! Completely submersible for water burst effects, and with a threaded muzzle for attaching angled fittings or a Debris Hopper (such as a plastic bucket with a hole in the bottom) for holding lightweight debris. The high-quality copper payload chamber is extremely durable and the whole thing even washes clean with a hose!
Your Florida - Tampa - Orlando and Southeastern Misting Specialist since 1996
We offer misting rentals and full service misting for events
One of the newest applications for a high pressure fog system is for special effect. We can offer full service or rent the system. If you been to a theme park you seen these all round the theme park like the roller coaster. Not the cooling misting fans, but the very visible misting fog effects. Mist can make an atmosphere hazy and jungle like, while not making you even damp.
By pressurizing water up to 1000 psi and forcing it through a specially designed mist system nozzle, billions of tiny water droplets can be created. Each droplet is smaller than the size of a grain of salt and are so light they actually suspend themselves in the air. If the water evaporates, it produces cooling up to 30 degrees Fahrenheit. The droplets are extremely small and stay dry unless
overall humidity climbs higher than about, 75%.
By using 1000 PSI, atomizing the water droplets to a size as small as 5 microns (5 millionths of a meter) in diameter is possible. At this level, 'flash evaporation' occurs reducing the ambient temperature. This process, known as 'Thermal Dynamics', is effective because water requires energy (600 calories of heat to evaporate 1 gram of water) to evaporate. This energy exchange results in reduced temperatures.
The overall effectiveness of the system will depend on existing temperature and humidity levels. As the temperature rises (85 degrees Fahrenheit to 115 degrees Fahrenheit is ideal), and humidity levels drop (above 90% performance is marginal, 40% to 90% performance is good, below 40% performance is excellent), the systems results can be dramatic.
We can supply Jungle mist and fog indoors and outdoors. If you light the mist with yellow-red colors the mist at night simulates a fire look.
Call Us @ 813 689 6269
Special effects Misting System
You have the pump, tubing, nozzles and fittings. You can connect the tubing to the hard pipe or just use the nylon tubing. You can run the misting nozzles 400 ft away from the pump.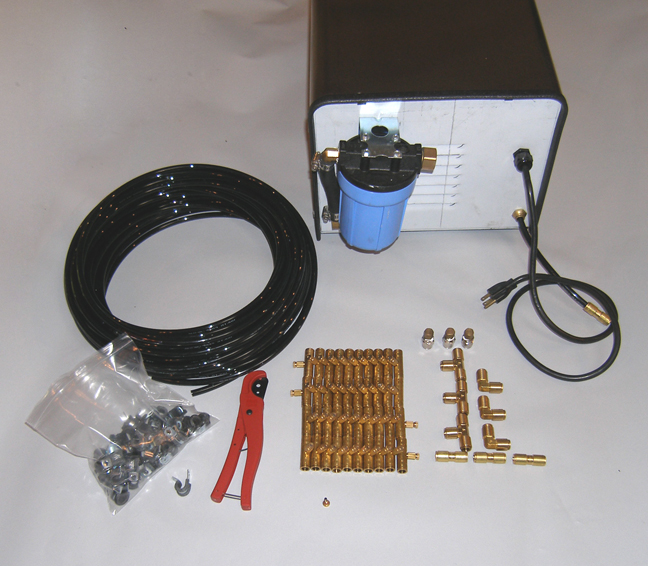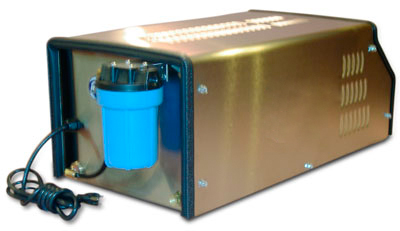 Our Pump is quite and stainless steel cover to be out on the elements. We have Nylon tubing or copper or stainless steel hard piping.
All we need is a water source and electric power.
This is a fine-mist water filtered system for making fog, haze, rear projection screens or dry waterfall effects is great for concerts, amusement parks, large indoor areas or outdoor applications where dry fog/mist effects are needed.
We use a flow of 1 gal/2gal of water per min, not suitable for hotel ballrooms.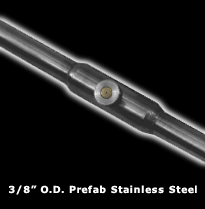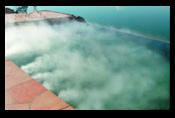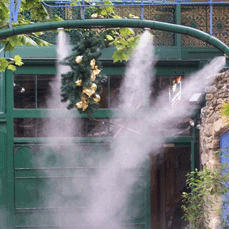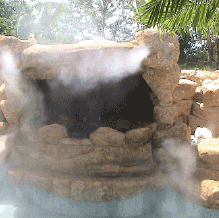 We can cool off an outdoor event.
The concept incorporates water and heat to provide cooling through "flash evaporation". Specially designed mist nozzles operate under high pressure to produce tiny water droplets reducing the surrounding air temperature.
Unlike the low pressure systems, our high pressure systems will keep the customer cool and dry - not even a slight mist on the table . No more wet tables or floors misters. With our high quality stainless steel tube mist line that says "You care for your audience/customers comfort" we will help you maximize patio seating even on the hottest days.
High pressure mist cooling breaks the water droplet into such a fine particle that it evaporates BEFORE it gets you wet. The evaporation process removes the heat in the air and lowers the temperature up to 25 degrees.
You Can uses the fog nozzles to generate a downward movement of air-flow from the water-mist nozzles pointed down, which draws already accumulated fog in the ceiling down with the flow of the misty cloud. This draw of
fog in water-mist creates an added marbled effect that enhances the look of an already exciting 18" thick curtain. Perfect for rear projections or laser beam light shows, this highlights the event with bubbles that travel through the mist, catching the light of the rear projection or lasers that light up the entire bubble.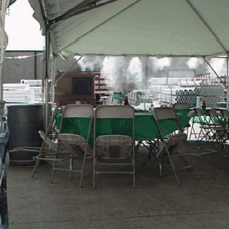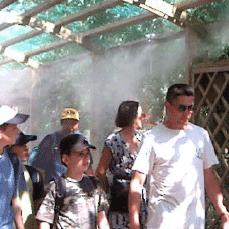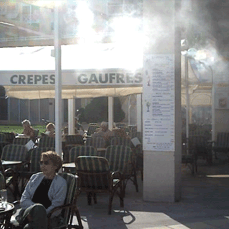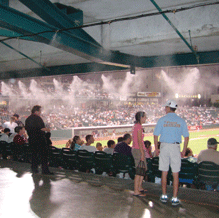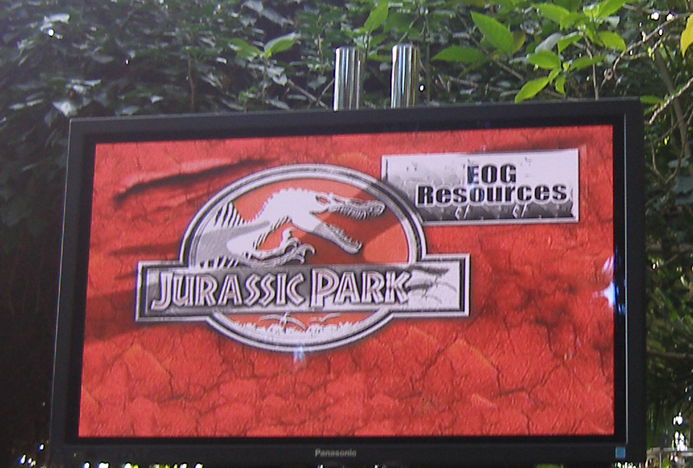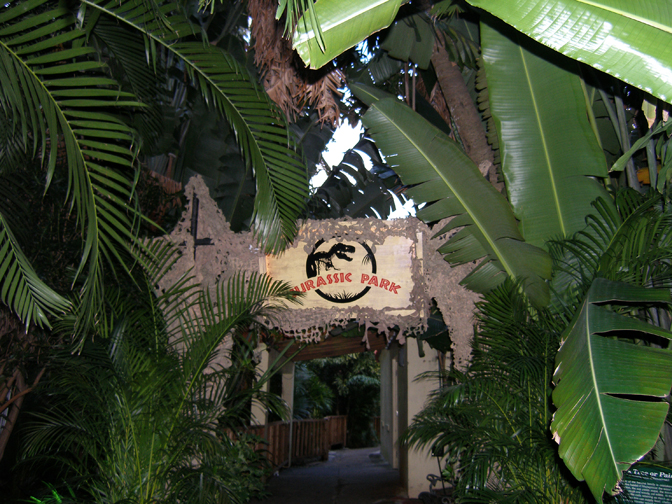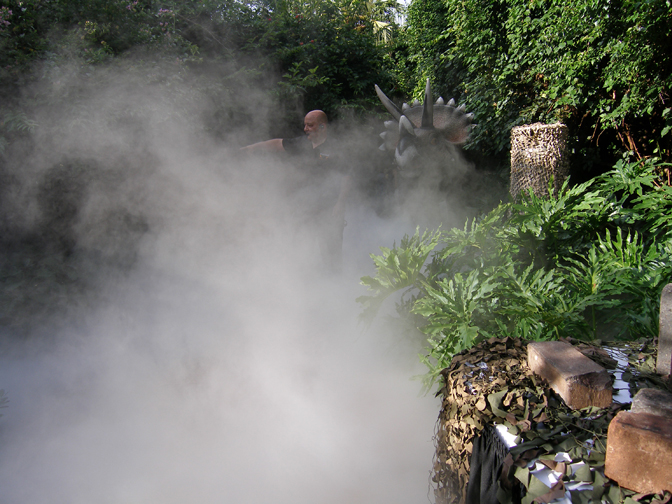 We supply FX Misting with tubing or hard pipe.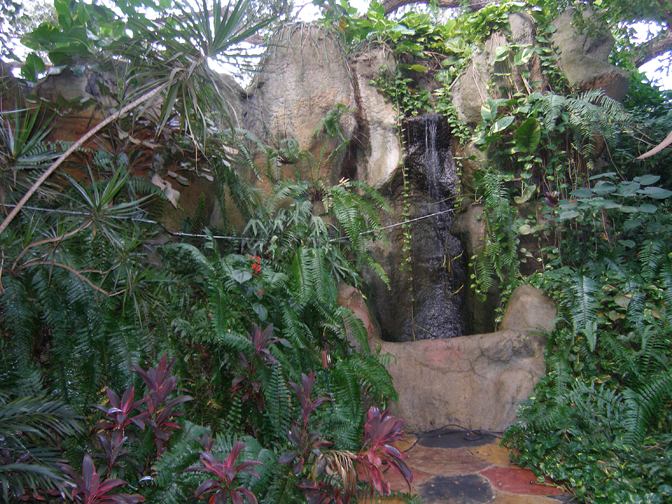 See the Piping above, see the misting below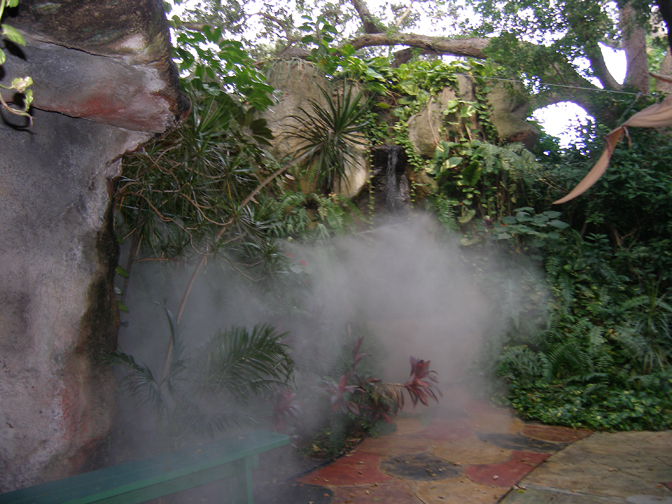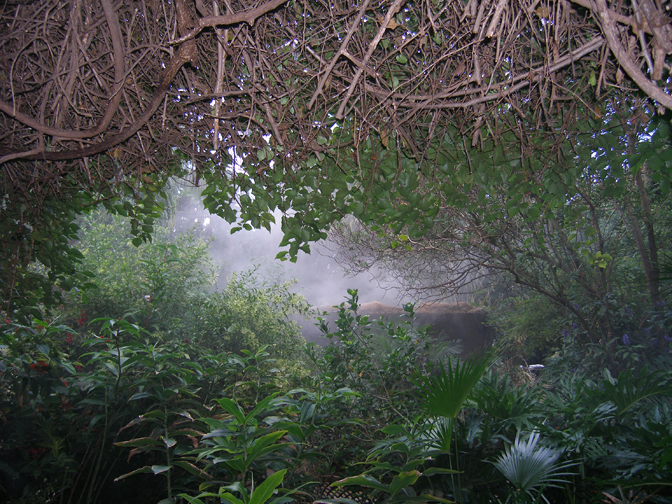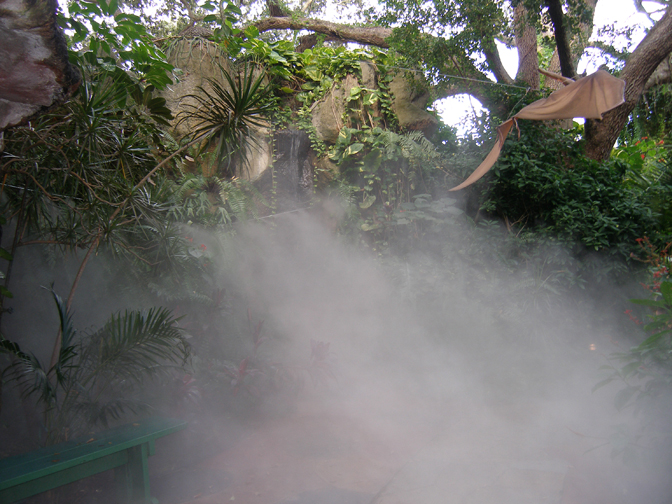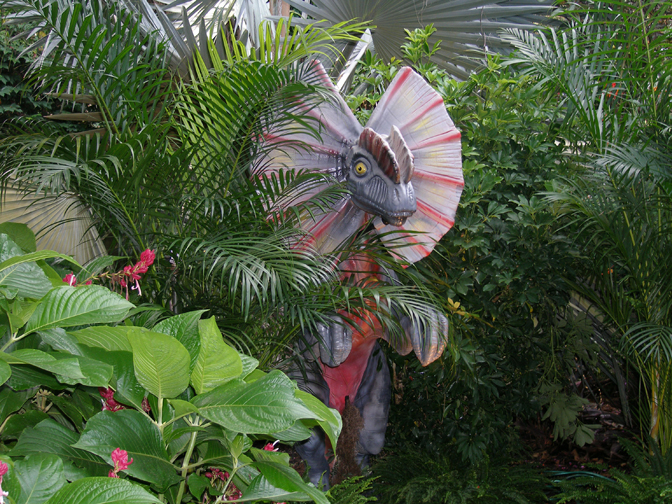 Special effect water hit
Now we are seeing lots of excitement in using the Mist System with Liquid Nitrogen and C02 effects also, where dry air needs more moisture to make
LN2 appear more sensational then ever.
Call Magic F/X 813.689.6269 for special effects

Warning
Do not attempt to recreate any FX effects seen on this site. We are professional and only experienced and legally approved over 21 can provide these services. Attempting to use propane with our the safety devices that are built in to our gear as well as firing pyrotechnics devices without training is dangerous. C02 can be very dangerous if your not a Certified effect specialist.
Effectspecialist.com provides pyrotechnics displays and propane flames presentations with full services nationwide We operate in North America United States we can service you in the follow cities with speedy services in;

Special effects for Entertainment Venues and clubs, snow machines Service in Alabama; Anniston, Birmingham, Dothan, Huntsville, Mobile, Montgomery, Tuscaloosa
High Range - High Volume Artificial or Fake Snow Flake Machines Service in Arizona; Flagstaff, Phoenix, Tucson, Yuma
Propane flames Service in Arkansas; Eureka Springs, Fayetteville, Fort Smith, Jonesboro, Little Rock, Monroe
Snow machines from flurries to a beautiful full blown Snowstorm Blizzard , cyro co2 and ground fog Service in California; Anaheim, Antelope Valley, Antioch, Bakersfield, Burbank, Chico, Eureka, Fresno, Hollywood, Huntington Beach, Inland Empire, Lake Tahoe, Livermore Valley, Long Beach, Los Angeles, Medford, Monterey, Napa Valley, Oakland, Orange County, Palm Springs, Pasadena, Sacramento, San Diego, San Francisco, San Jose, Santa Barbara, Santa Monica, Temecula, Ventura County, Yuma
Theatrical FX and indoor pyrotechnics displays Service in Colorado: Aurora, Boulder, Colorado Springs, Denver, Fort Collins, Grand Junction, Vail,
Special effects Service in Connecticut, Danbury, Hartford, New Haven, Stamford
LSG, Fake snow machines gas FX flames Service in DC; District of Columbia
Low-level Displays Super Bowl Style Pyro and cyro Service in Delaware; Dover, Georgetown, Wilmington
special effect fake snow machines, foam machine, LSG cold flow fog, pyrotechnics, fireworks and Propane drangonfly flames Service in Florida; Boca Raton, Daytona, Florida Keys, Fort Lauderdale, Fort Meyers, Fort Pierce, Gainesville, Jacksonville, Marco Island, Melbourne, Miami, Ocala, Orlando, Panama City, Pensacola, Sarasota, Tallahassee, Tampa Bay, West Palm Beach
Fireworks FX Pyrotechnical, fake snow machines Service in Georgia; Albany Athens, Atlanta, Augusta, Columbus, Golden Isles, Macon, Savannah
Special effects Co2 outdoor snowfall machines Service in Hawaii; Hawaii Island, Honolulu, Kauai Island Lanaie Island, Maui, Molokai Island
foam machine rental Service for Idaho; Boise-Pocatello, Coeur D Alene, Idaho Falls, Lewiston, Sandpoint, Twin Falls
Pyrotechnics and flames Service in Illinois; Bloomington, Champaign, Chicago, Davenport, Evanston, Mt. Vernon, Oak Lawn, Peoria, Quincy, Rockford, Springfield, Wheaton
FX fire and pyrotechnics table top gerbs Services Indiana; Evansville, Fort Wayne, Hammond, Indianapolis, Lafayette, South Bend, Terre Haute
Evaporating DRY Snow machines, pyrotechnics and flames Service in Iowa ; Cedar Rapids, Davenport, Des Moines, Ottumwa, Quincy, Rochester, Sioux City
Fireworks pyrotechnics, propane flame, snow machines Service in Kansas ; Dodge City, Goodland, Great Bend, Kansas City Lawrence, Manhattan, Salina, Topeka, Wichita
Full event services, snow machine FX Kentucky; Ashland, Bowling Green, Elizabethtown, Hopkinsville, Lexington, Louisville, Owensboro, Paducah
Bubbles FX, pyro Service in Louisiana ; Alexandria, Baton Rouge, Lafayette, Lake Charles, Monroe, New Orleans, Shreveport
inside Pyrotechnics or outdoors pyrotechnics displays Service in Maine; Augusta, Bangor, Lewiston, Ogunquit, Portland, Presque Isle, York
Cyro and snow falling displays Maryland; Annapolis, Baltimore, Columbia, Eastern Shore, Laurel, Montgomery County, Rockville, Salisbury, Southern,Western
Magic FX Service in Massachusetts with low ground fog; Birkshire County, Boston, Cape Cod, Lowell, Springfield, Worcester, Service for Michigan , Ann Arbor, Detroit, Flint, Gaylord, Grand Rapids, Jackson, Kalamazoo, Lansing, Marquette, Port Huron, Saginaw, Saint Clair Shores, Sault Saint Marie, Traverse City, Tri-Cities, Warren,
party foam machines and cyro jets Service in Minnesota; Duluth, Mankato, Minneapolis, Moorhead, Rochester, St. Cloud, St. Paul, Twin Cities
Fireworks and pyrotechnics, flame FX, snow machine rentals Service in Mississippi; Biloxi, Greenwood, Hattiesburg, Jackson, Meridian,Service in Missouri . Clinton, Columbia, Jefferson City, Joplin
Flames and propane fire Kansas City; Ottumwa, Paducah, Quincy, Sedalia, Springfield, St. Joseph, St. Louis,
Next FX protechnics products used in Servicing in Montana; , Billings, Bozeman, Butte, Glendive, Great Falls, Helena, Missoula
Fake snow maachines, Snow falling events, cyro jets, crawling smoke, consulting Service in California; Anaheim, Antelope Valley, Antioch, Bakersfield, Burbank, Chico, Eureka, Fresno, Hollywood, Huntington Beach, Inland Empire, Lake Tahoe, Livermore Valley Long Beach, Los Angeles, Medford, Monterey, Napa Valley, Oakland, Orange County, Palm Springs, Pasadena, Sacramento, San Diego, San Francisco, San Jose, Santa Barbara, Santa Monica, Temecula, Ventura County, Yuma
Special effects foam machines , pyro services Nebraska ; Beatrice, Cheyenne, Freemont, Grand Island, Lexington, Lincoln, Norfolk, North Platte, Ogallala, Omaha, ScottsBluff
special effec tpropane cold flow, Flame effects and indoor pyrotechnics , snow falling Service in Nevada; Lake Tahoe Las Vegas, Reno
Bubbles machines and foam machines Service in New Hampshire; Concord Dartmouth, Lakes Region, Manchester, Monadnock Region, North Woods, Seacoast Region, Southern, White Mountains
Full service special effects for movies and theme parks Service in New Jersey; Atlantic City, Bayonne, Belmar, Bloomfield, Camden, Carteret, Hackensack, Hoboken, Jersey City, Montclair, New Brunswick, Newark, Old Bridge, Paramus, Point Pleasant Seaside Heights, Secaucus, Trenton, Wildwood
Confetti and streamer and Snow Service in New Mexico Albuquerque, Santa Fe
Confetti and streamers special effect, artificial snow lsg cold flow, Service in New York; Albany, Binghamton, Brooklyn, Buffalo, Burlington, Elmira, Hudson Valley, Long Island-Nassau County, Long Island-Suffolk County, Long Island-The Hamptons, Manhattan New York City, NY City, Oneonta, Queens, Rochester, Rockland, Staten Island, Syracuse, Utica, Watertown, Westchester,
Pyrotechnical and fireworks, snow machines Service in North Carolina; Charlotte Durham, Fayetteville, Greensboro Greenville, Raleigh, Rockymount, Western, Wilmington, Winston Salem
special effects Service in North Dakota; Bismarck Dickinson, Fargo, Grand Forks, Jamestown, Minot, Williston
Pyrotechnicians and flame operator Services in Ohio; Akron Cincinnati, Cleveland Columbus Dayton Lima, Toledo, Wheeling, Youngstown, Zanesville
Special effect events, Gale Force Wind FansService in Oklahoma; Oklahoma City, Tulsa, Wichita Falls
FX machines, snow machine rental Services in Oregon; Bend, Eugene, Klamath Falls, Medford, Portland, Salem,Service in
Magic FX pyrotechnics, flame FX Special effect rentals Pennsylvania , Allentown, Erie, Harrisburg, Johnstown, Philadelphia, Pittsburgh, Poconos, State College, Wilkes Barre, York
Cryogenic Venturi Smoke Effects FX services in Rhode Island; Newport, Providence
snow displays Services in South Carolina ;artificial indoor snow Charleston, Columbia, Florence, Greenville, Hilton Head, Myrtle Beach, Rock Hill
Aerotechnics Confetti & Streamers, Foam machine Service in South Dakota; Rapid City, Sioux City, Sioux Falls
snowmastesr snow machines, propane flames, Licensed flames pyrotechnics operatorService in Tennessee; Chattanooga, Jackson, Knoxville, Memphis, Nashville, Tri Cities
Pyrotechnics and Gas Flames operators, lsg cold flow, Motorized Spinning gerbs snow machines, Licensed flames pyrotechnics operato services for Texas ; Abilene, Amarillo, Austin, Bay City, Beaumont, Corpus Christi, Dallas, El Paso, Fort Worth, Galveston, Harlingen, Houston, Laredo, Lubbock, Odessa, San Angelo, San Antonio, Texarkana, Tyler, Victoria, Waco, Wichita Falls
FX consulting Service in Utah; Provo, Salt Lake City
indoor snowfall machines Service in Vermont; Burlington, Manchester, Middlebury
Pyro and flame Services in Virginia; Charlottesville, Fairfax, Fredericksburg, Hampton, Harrisonburg, Manassas, Norfolk, Northern, Richmond, Roanoke, Vienna
special effect machines and pyrotechnics and fireworks Service in Washington; Olympia, Seattle, Spokane, Tacoma, Vancouver, Wenatchee, Yakima
Confetti and bubble machines Service in West Virginia; Beckley, Charleston, Clarksburg, Huntington, Parkersburg, Wheeling
Smoke FX for corporate events Service in Wisconsin; Appleton, Ashland, Eau Claire, Green Bay, Janesville, Madison, Milwaukee, Oshkosh, Prairie du Chien, Racine, Rhinelander, Superior, Waukesha, Wausau
Theatrical effects and pyrotechnic Service in Wyoming; Casper, Cheyenne, Gillette, Jackson Hole, Rock Springs