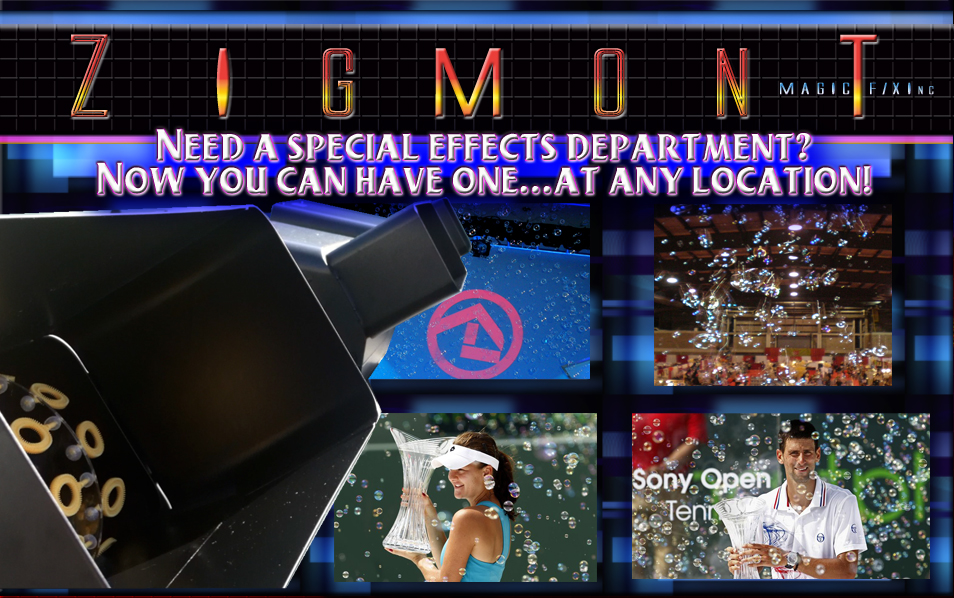 The Bubble Effect Specialist® zigmont@zigmont.com or 813.689.6269 zigmont@effectspecialist.com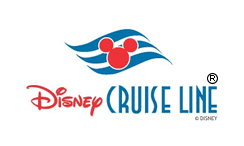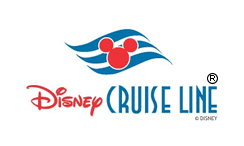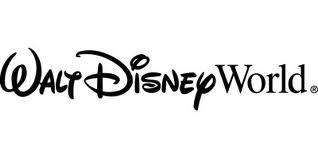 We provide Bubbles for Disney World, Disney Cruise Ships and Legoland Theme Parks.
Pepsi could of hired any one, country wide each and We provided massive bubbles 8 Million for PepsiCo which Introduces "FIZZ" at World Maker Faire and Grab Life by the Bubble on Brand and immersive beverage experience.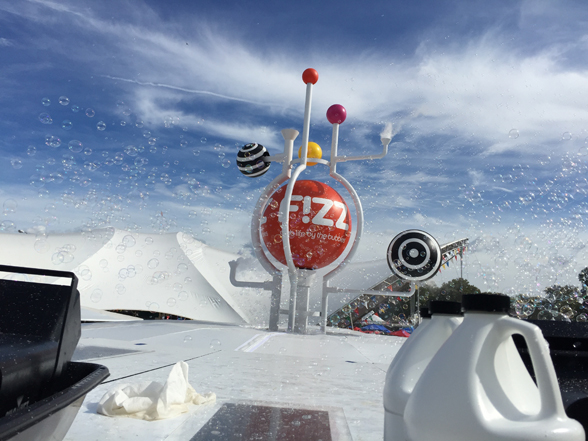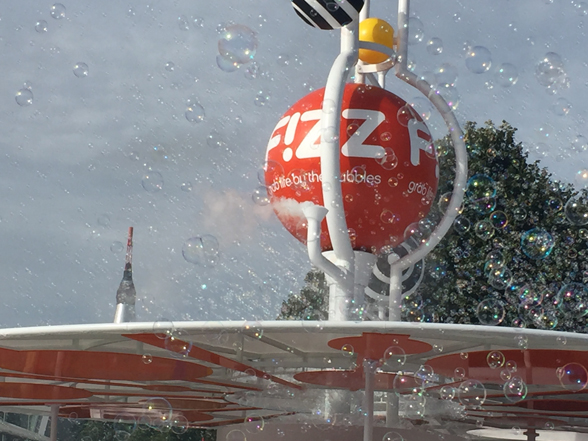 Need massive bubbles like Pepsi we provided 8 million bubbles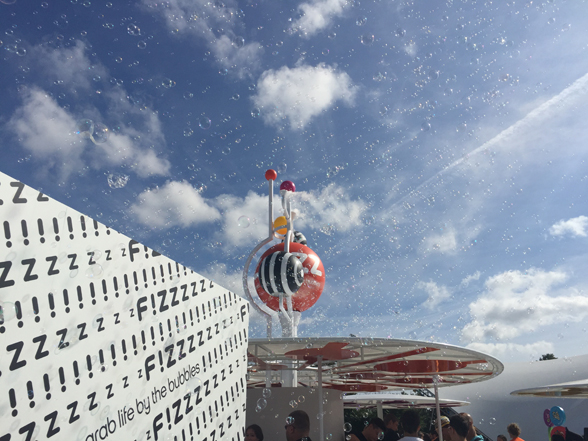 Professional Industrial Bubbles Machines for Corporate Conventions, Professional Sports, Street Festivals, Theatrical Shows or just filling up a Ballroom. We can provide full service for a bubble event, we can provide Bubble Machine Rentals or sales.

As seen at CNN Turner Broadcasting Systems Latin America Upfront 2012 event at Jazz at Lincoln Center.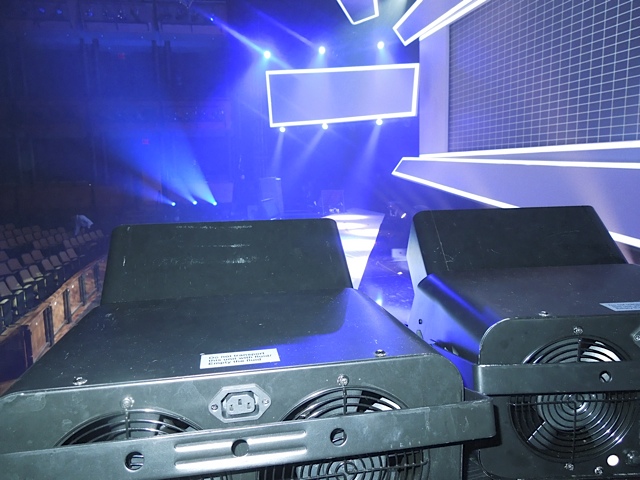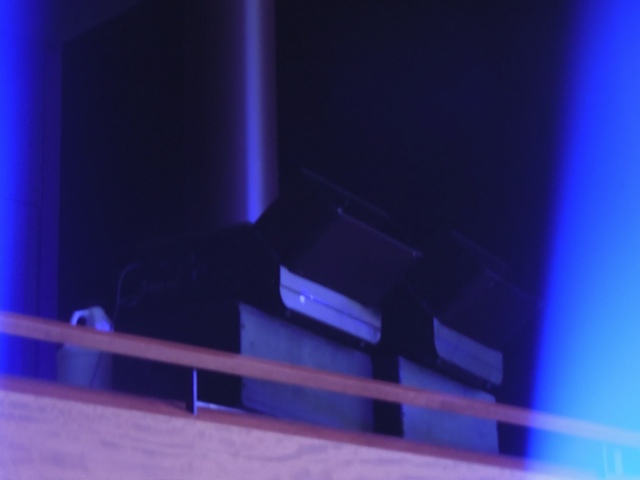 Our Pro Bubble machines are used for stage products, street events, sports games and corporate conventions. It's always best for the machines to be floor mounted as bubbles are blown upward and our bubbles once in the air disappears no residue releasing, as they dry out in the air. In general bubble machines work the same indoors or outdoors. But outdoors the winds or breeze carries the bubbles upward and spread them. Indoors the use fans to help spread the bubbles as the wind would. The problem is the theater or venue AC air handlers can blow down onto the bubbles or even be a turbulent wind to the bubbles and can effect the distance and flow and may even pop the bubbles permature. So testing is needed if the bubble machine are installed up high and near the ceiling (high balcony area) or off the ground.
To gain the best and cleanest effect indoors floor mount the machines. Best results outdoors raise the machines off the ground. Indoor mats/rug may be needed (depending on floor type) in front of the machines depending the machine position (say up off the floor as the bubbles can break as they come out of the machines wands. Each wand can make 8 - 12 bubbles and some do not survive on the floor less noticeable and raised off the ground more flying time. With special effect bubbles, snow and smoke there no telling how a theater or ballroom will affect the results. We had great sucess say with Hershey doing bubbles in a ballroom in the ceiling at 20 foot height. Most of the best bubble shows have been using a good number of floor mounted machines.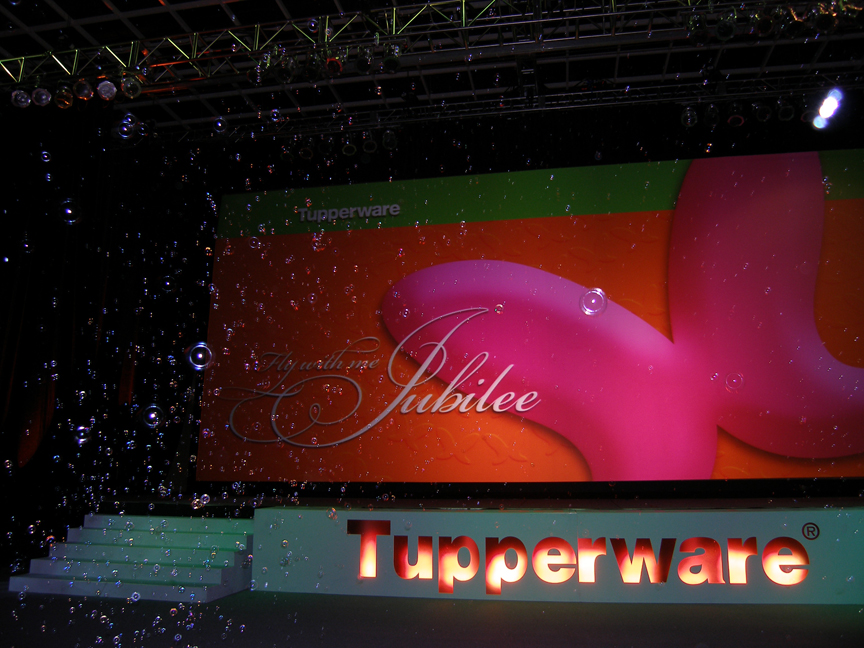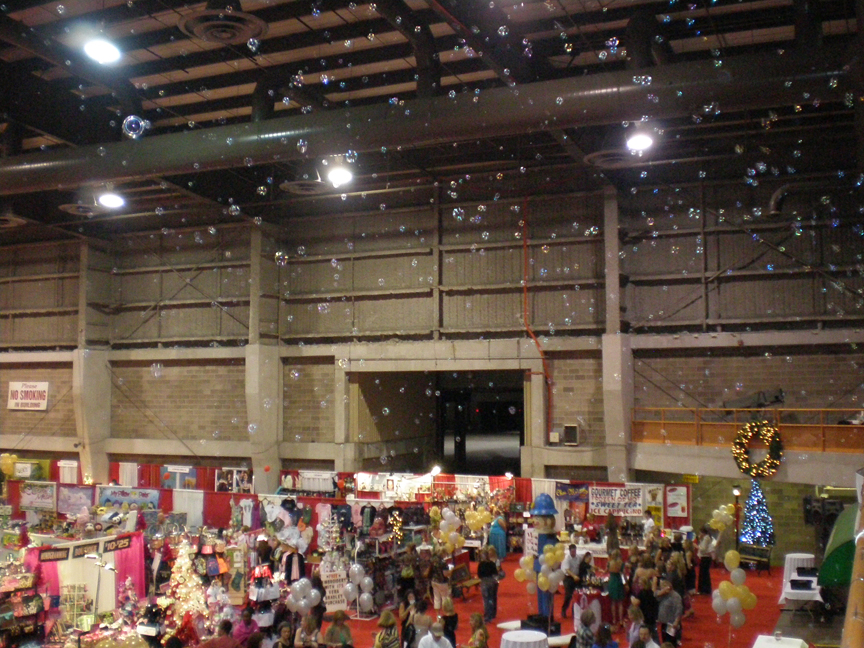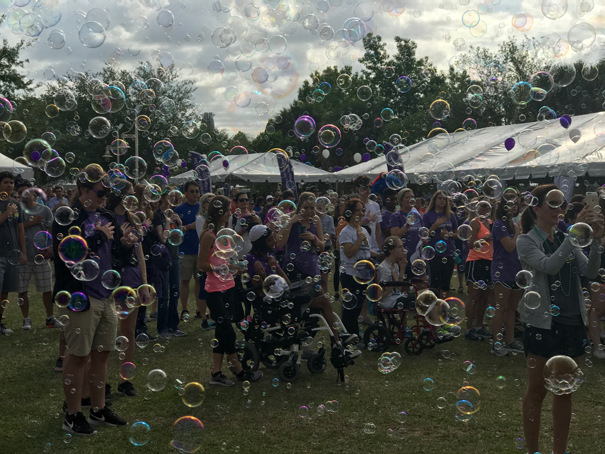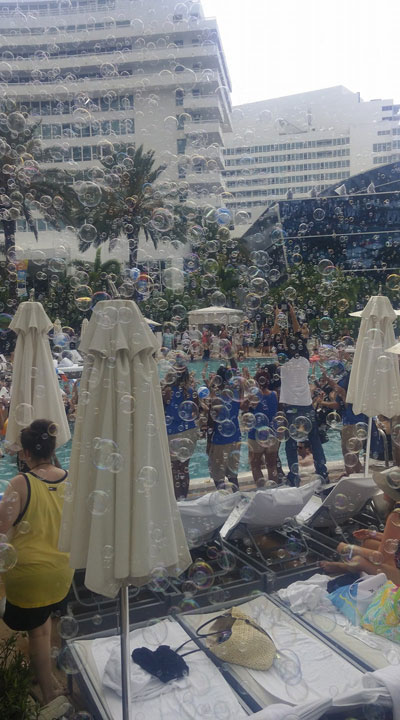 Here is Bubble Machine at Poolside at the Fontainebleau Miami FL
Special Effects Atmospheric Effects - Bubbles , Floating Bubbles, Let the Bubble Effect Specialist at Magic FX provide Bubble Effect Machines at your Event. With a huge inventory of professional bubble machines rentals and full service that has been maintained to our high standards and tweaked to our specs by our company. We have a the right machine for your event.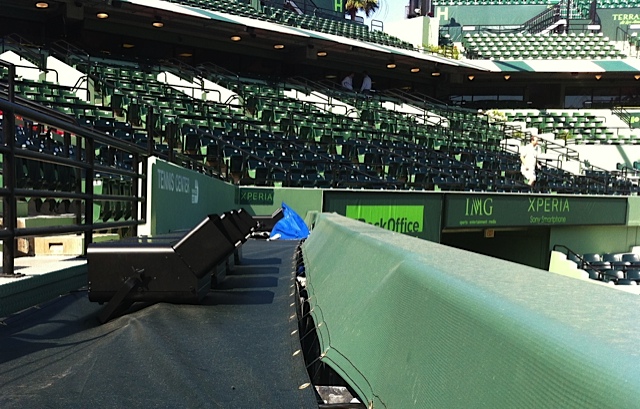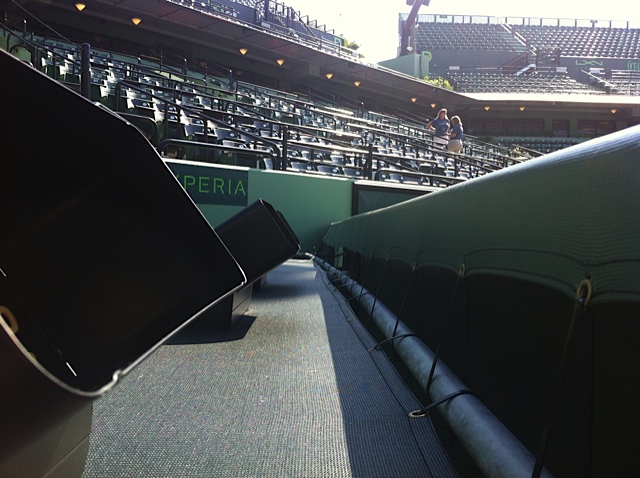 Bubbles Machines to fill a Ballroom - Bubbles Cover a City Block - Bubbles to fill a Stadium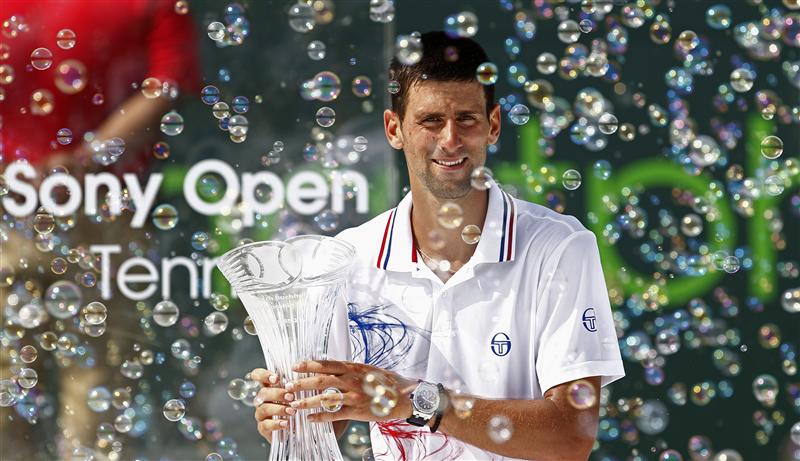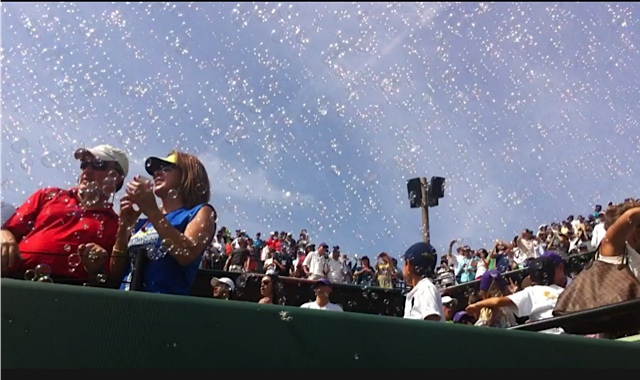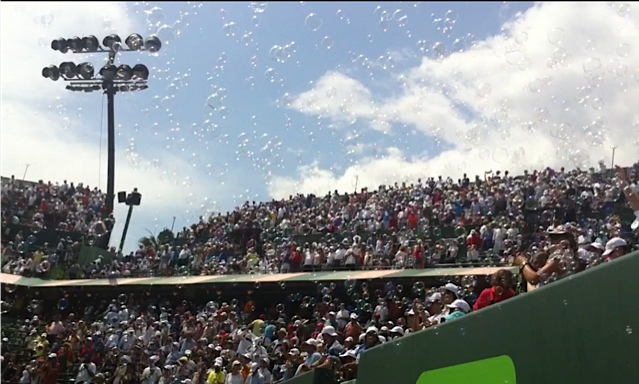 We provided the 2012 Sony Ericsson Open Tennis Tournament with one of the largest Bubble Events "live" on TV (CBS) and to 200 countries on March 31st and April 1st at Crandon Park Tennis Center Key Biscayne Florida. We used over 20 bubble machines for this Tennis First awards with Bubbles.
A Tennis First Bubbles at the award ceremony.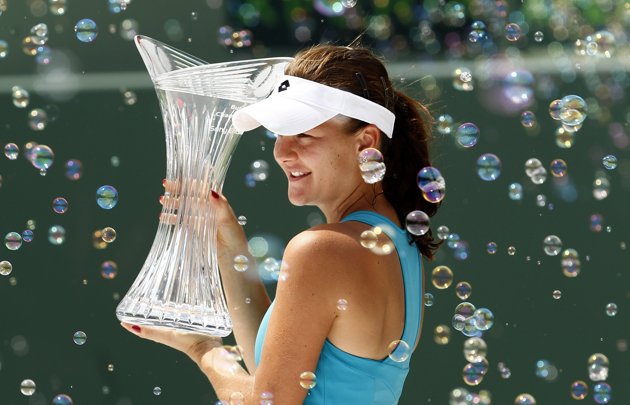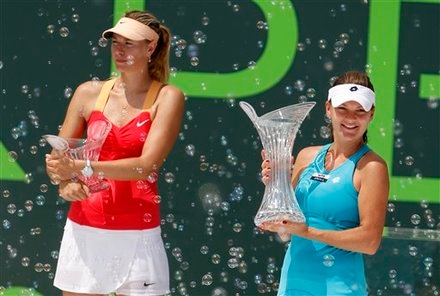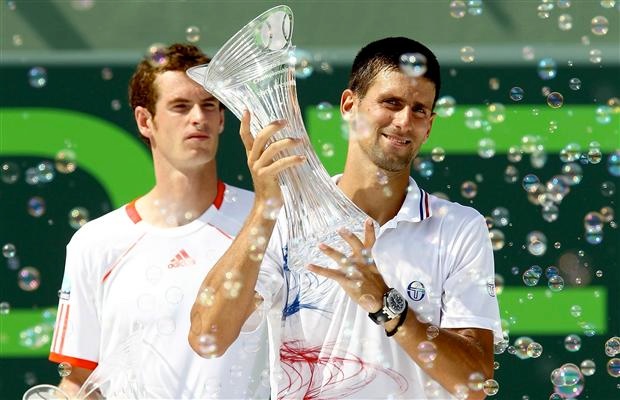 We filled the stadium with bubbles for the 2012 Sony Ericsson Open Tennis Tournament awards.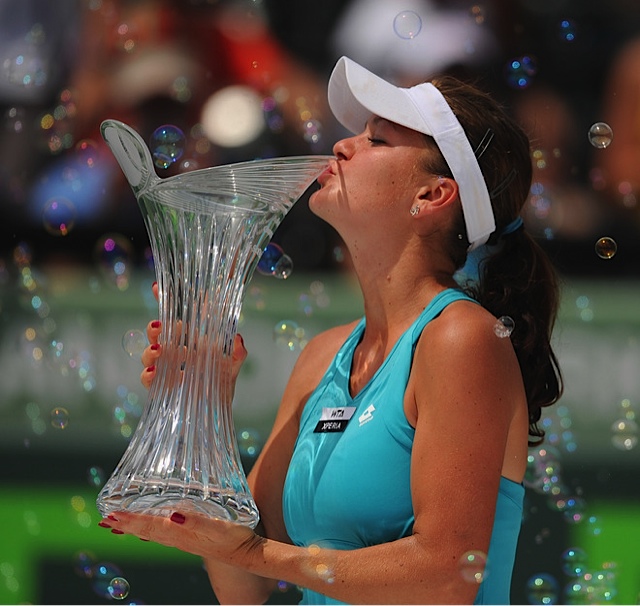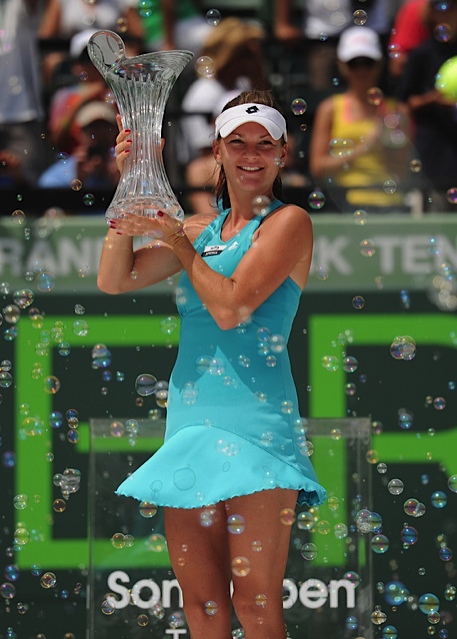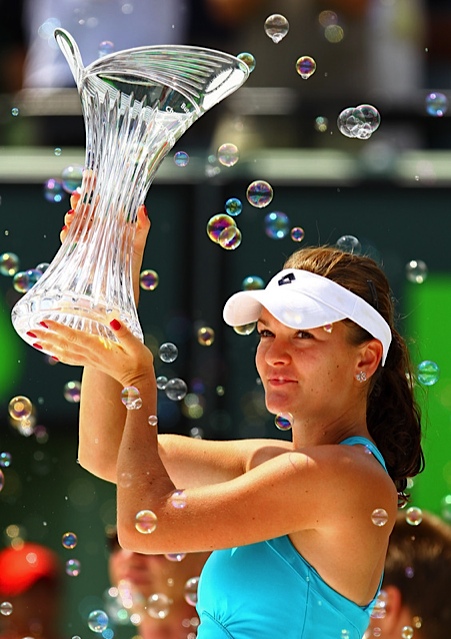 The world of Tennis call The Effect Specialist when bubbles were needed.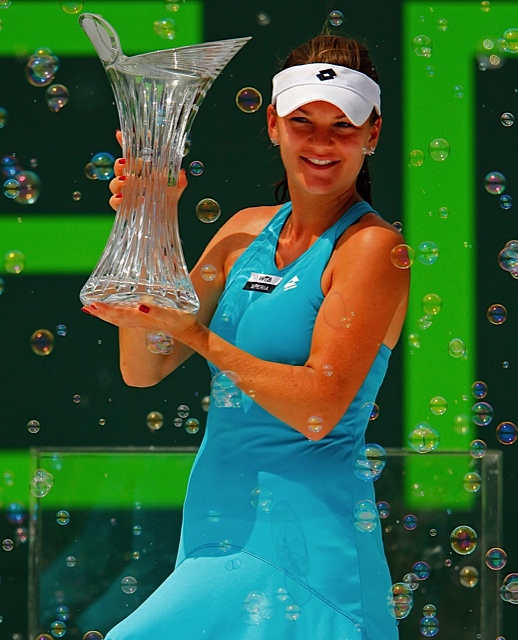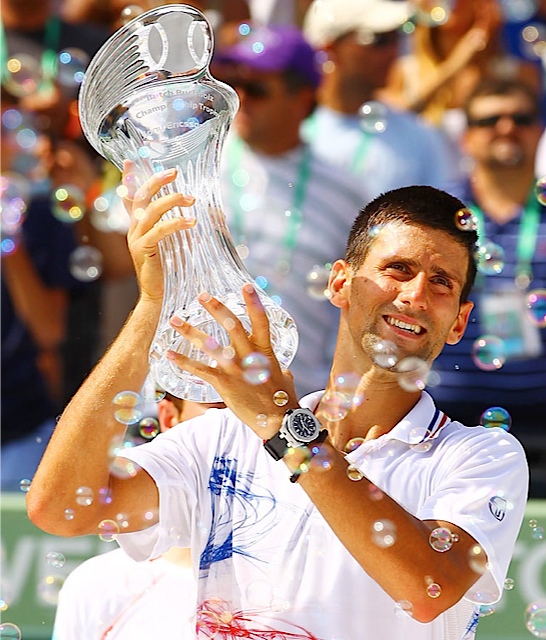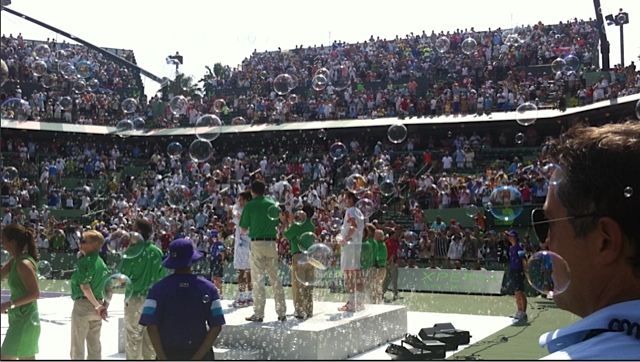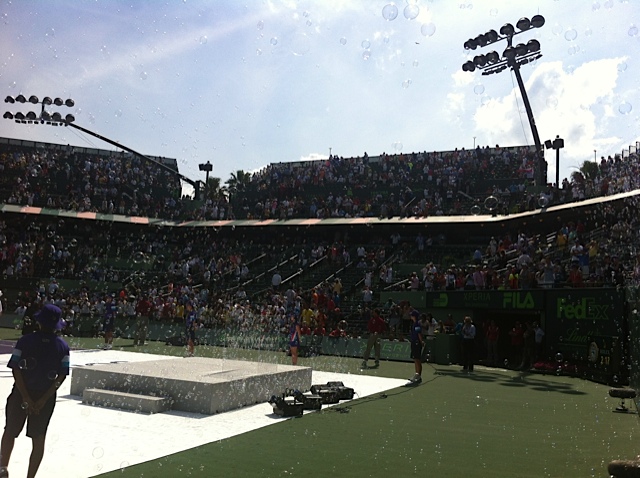 We provided the Bubbles for the 2012 Sony Ericsson Open Tennis Tournament awards for the entire Stadium.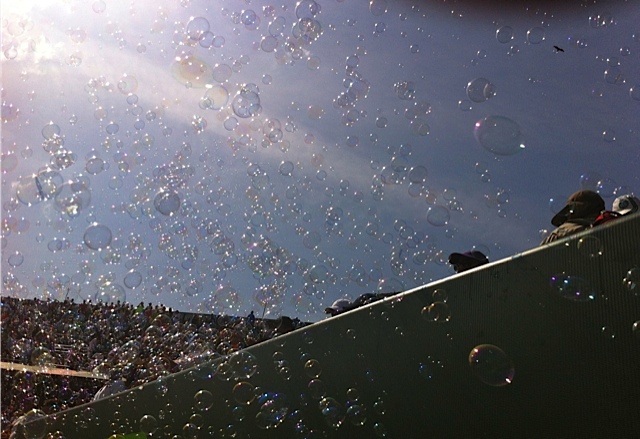 We had machines around the stadium and as the breeze blew the bubbles went everywhere for the 4 minutes.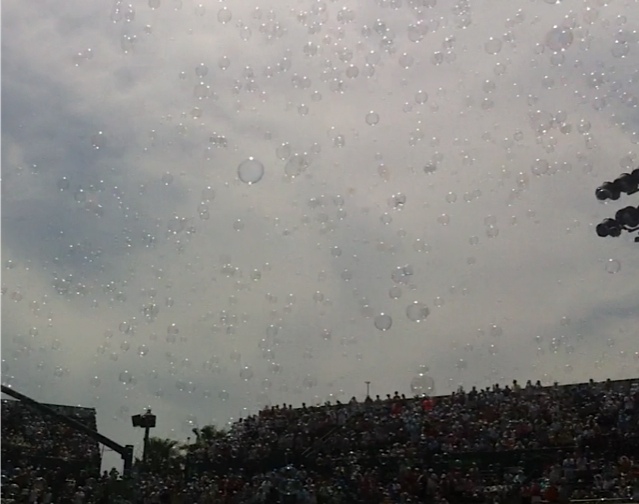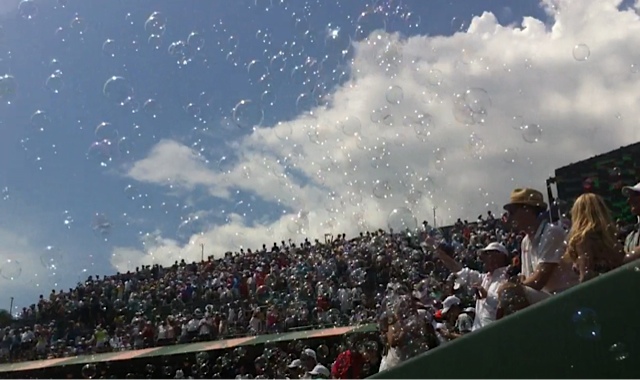 The audience loved the bubbles which was a Tennis first at the award ceremony.
Time times More bubble Fluid
Large Bubbles 8" - 20"
Small Bubbles 1' - 3"
1000's of Bubbles Per-Minute
Smoke Filled Bubbles
High Volume - Big Output Bubble Machines
Full Service Bubble Events for Corporate Stage Productions

Zigmont Magic FX Inc 813 689 6269 zigmont@zigmont.com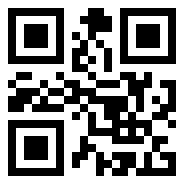 Scan to dial our Phone Number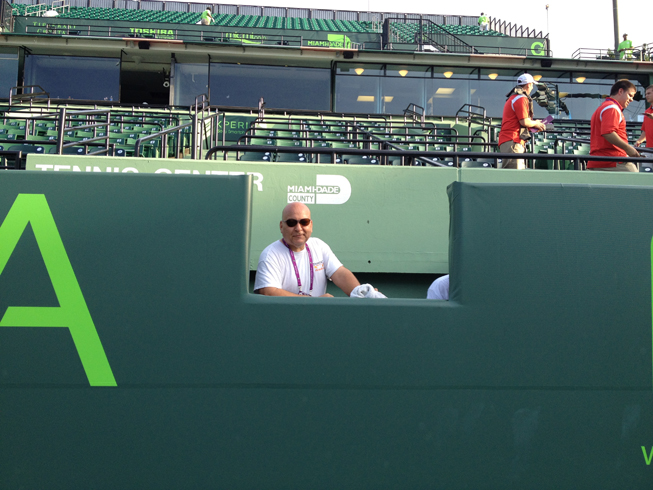 The Effect Specialist at Work.
Need a crazy amount of bubbles in Florida or any point across the country? We can Create a bubble zone in a ballroom, on stage for a corporate party, special event or an outdoor plaza or fill a stadium. We supply bubble machines for special events for that festive look and feel or to gain attention. We employ all style and types of bubble machines that are tested and approved by our effect specialist. The best professional brands and models of bubble machines from the current models and past models. We know the performance of all our bubble machines and will choose the best units for your event. The correct selection of bubbles machine for the right look. We provide services to make your event turn-key operation. We use a special bend of bubble fluid to make our machines perform unbelievable. The right machines make all the difference.
Bubbles at an Events are at Children's Hospital of Minneapolis event 2012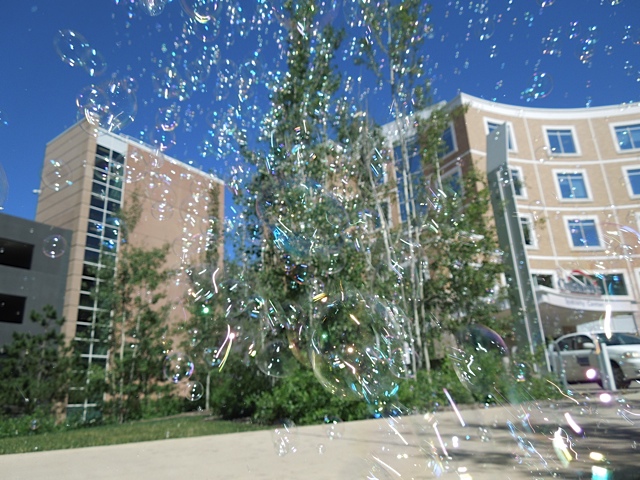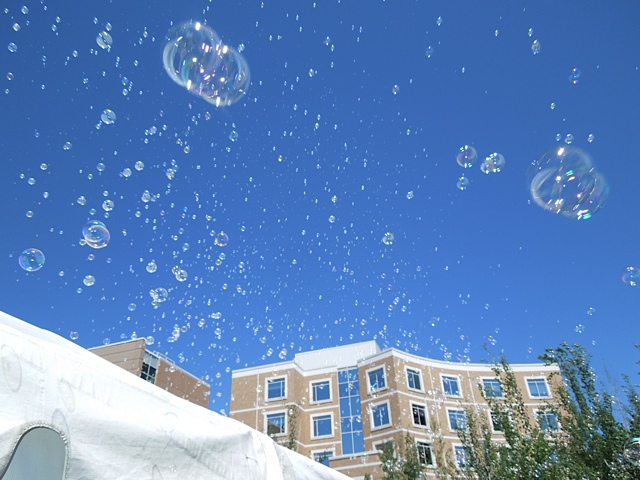 Bubbles Machines can make a statement when you have a effect specialist provide the special effects.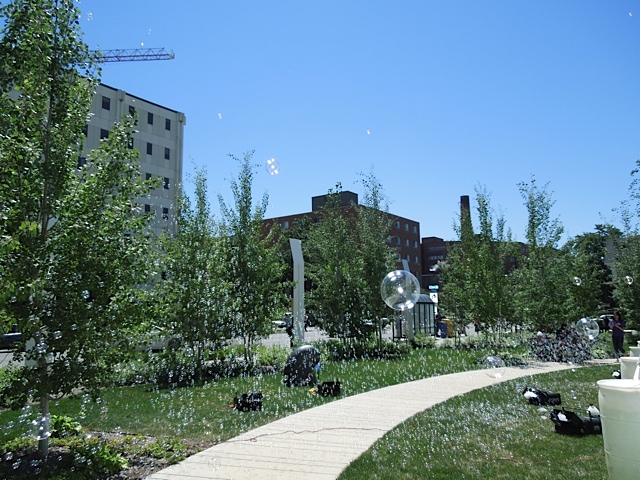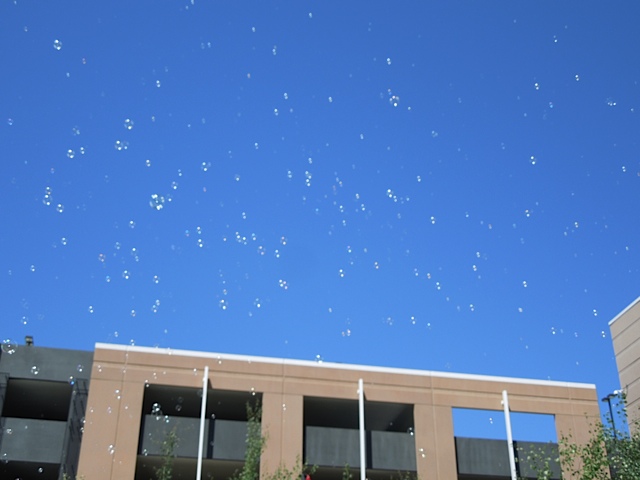 The Children's Hospital of Minneapolis event used 8 bubble machines.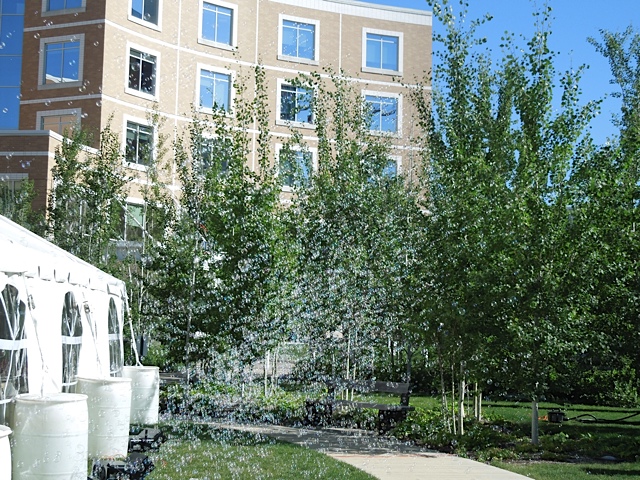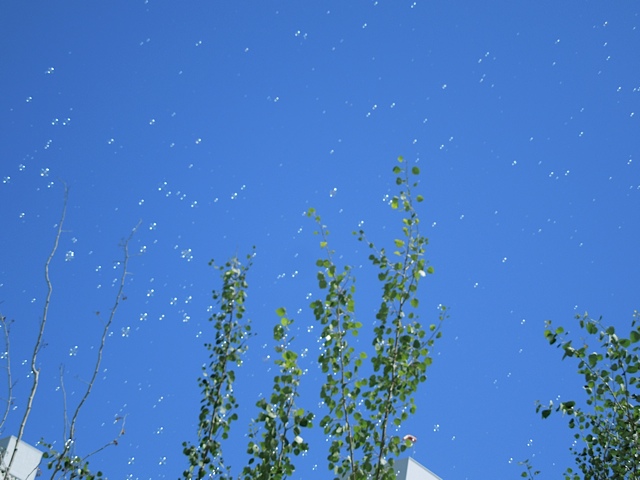 Bubbles for a 2009 indoor event and are always in Fashion. Machines Floor mounted.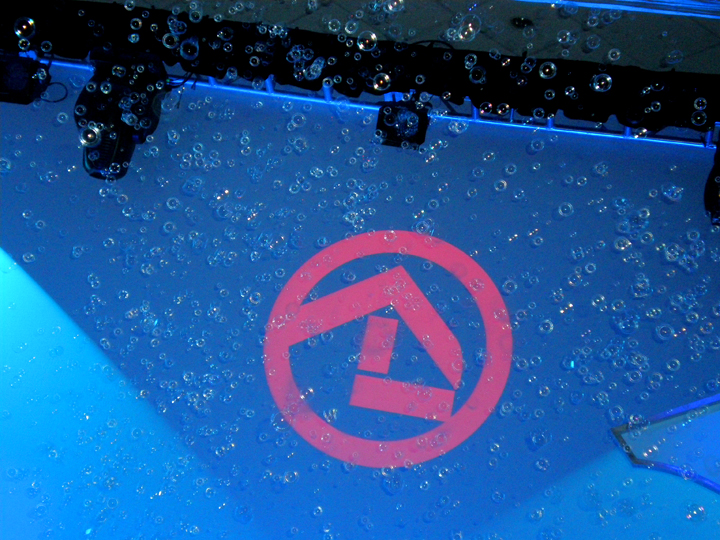 American Resort Development Association with Bubbles everywhere with no residue. (ARDA)
Indoor bubbles from 1 inch to 4 inch bubbles with no residue.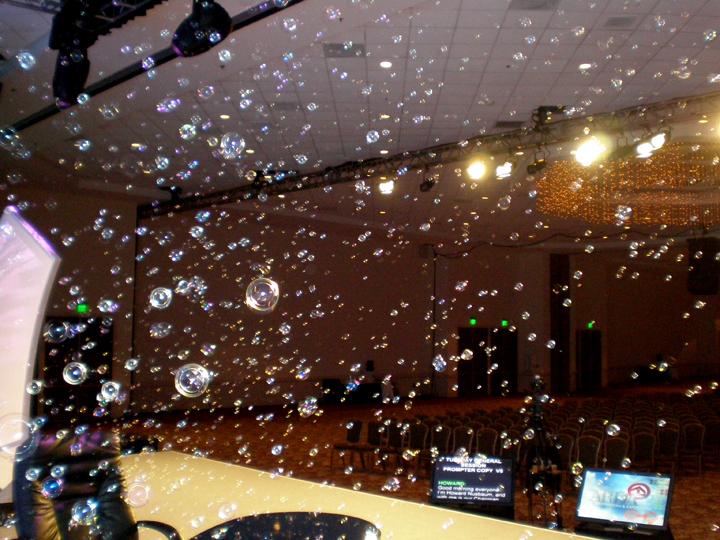 Bubbles at American Resort Development Association (ARDA)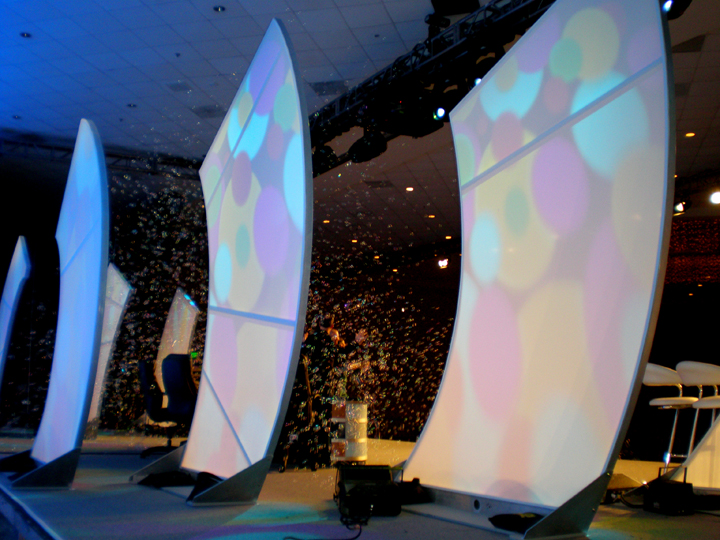 Bubble Machine at a Corporate Event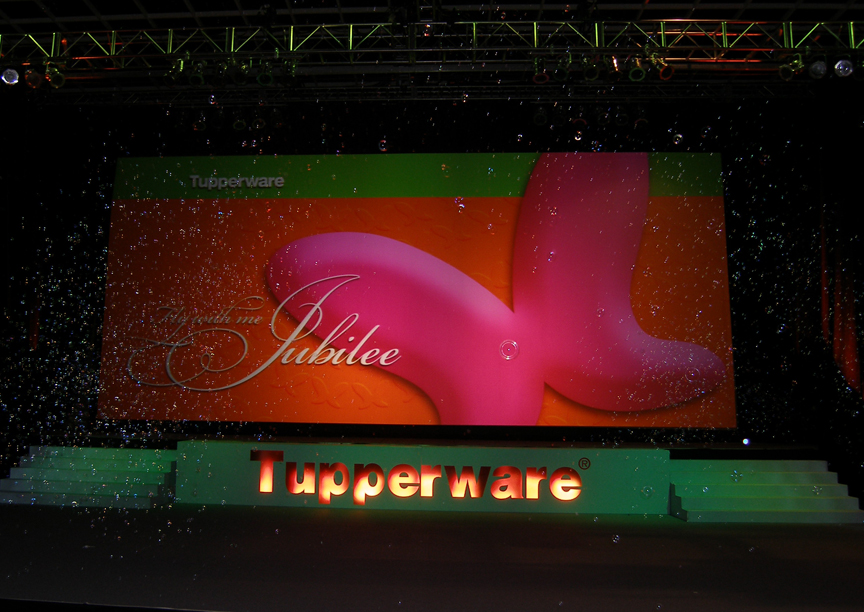 High flying and plentiful Bubbles for Tupperware 2007 new line intro in Florida on a rug deck alway slip free.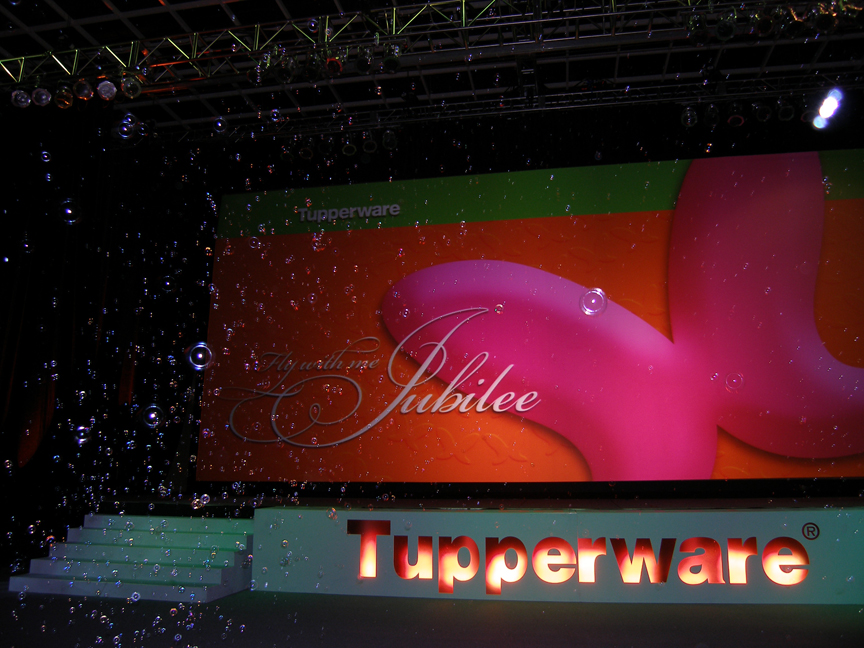 Bubble Machines are perfect for Corporate Parties, Weddings, Nightclubs, Sport Teams Pre show Plaza Events, Birthday Parties, Fashion Shows, Retail Centers, Malls and all Celebrations
The new Bubble Tube Machine That we have 16 on the Disney Cruise Ship Lines in the Walt Disney Theater.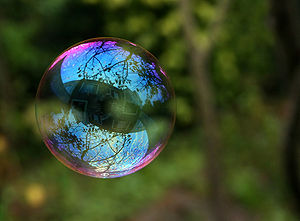 A soapy bubble is a very thin film of soap water that forms a sphere with an iridescent surface.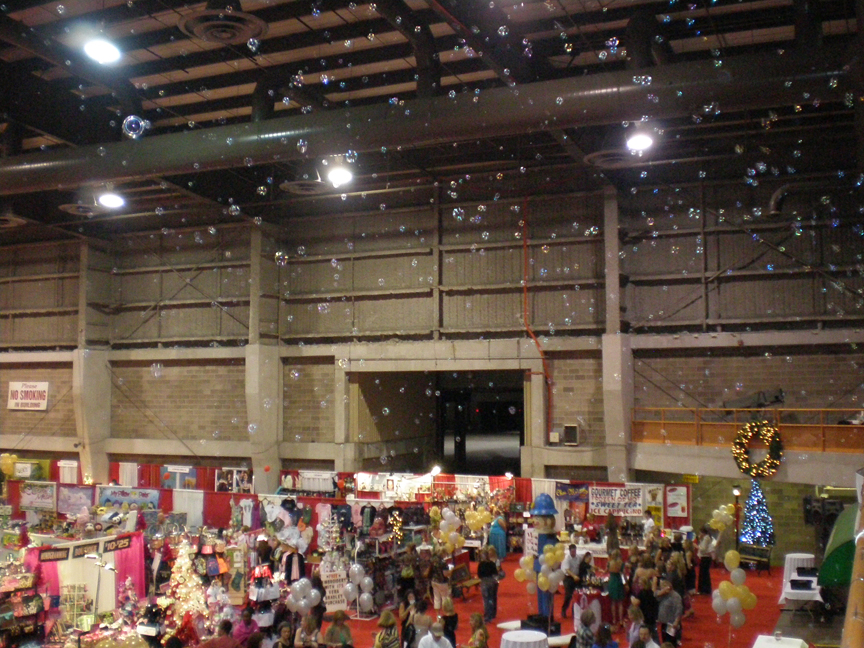 One bubble machine spreading far and wide with the help of a fan.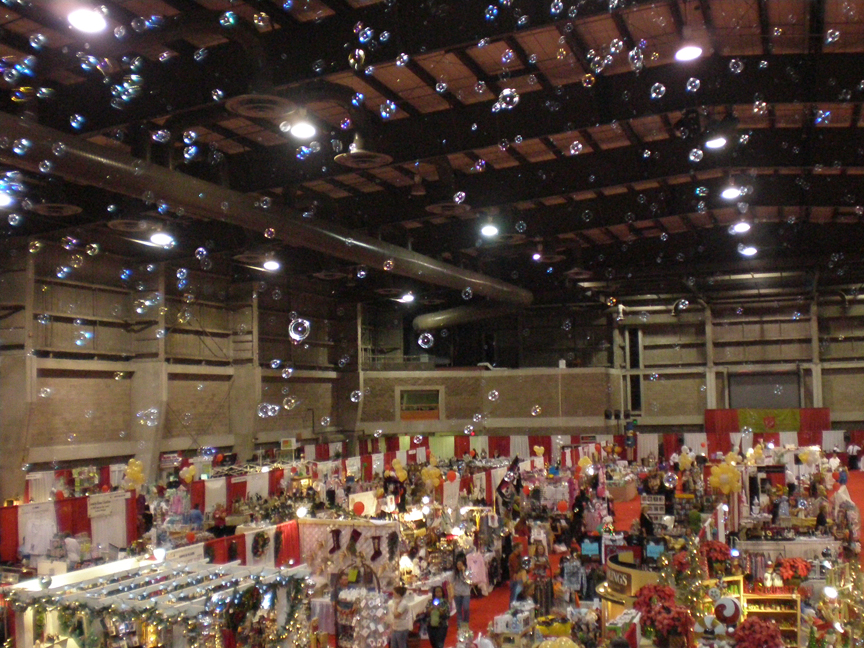 17th century Flemish paintings show children blowing bubbles with clay pipes. This means that bubbles as playthings are at least 400 years old. A Chicago company called Chemtoy began selling bubble solution in the 1940s, and they have captivated children ever since. According to one industry estimate, retailers sell around 200 million bottles annually, perhaps more than any other toy.
Despite the fact that soap bubbles have been with us for hundreds of years, they are still a relatively new effect in the theatre.
This is a fact that the inventive designer will use to his advantage. Remember that novelty is one of the things that makes a special effect special;
the less an audience has seen an effect, the larger an effect it will have.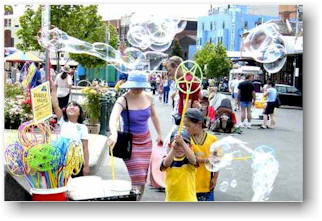 Our bubble zone can allow the kids to use our Jumbo bubble wands to make their own make giant bubbles.
We are Bubbles Masters and you will find us to be experts on bubbles. We know the creator and are friends with Brian Glover the inventor of the modern bubble machine. Once there was just one bubble machine on the market, the Altman lighting company bubble machine. The Lawrence Welk Show used 16 of these machines. Brian devolved the modern day machine with uses internal fans and a calculated wind wave within the machine to produce more bubbles than ever seen before his Bubble machine prototype
Bubble machines use a thick glycerin-based soap solution (bubble juice) and a series of plastic wands to generate hundreds of floating soap bubbles. There is no advanced technology behind the bubble production their's different wands configuration and different fan power and wind tunnel lengths, but the machines are mechanically dipped into the soapy solution and bubbles are formed in the open air. A small electric fan may encourage bubbles to move away from the machine, but that's as high tech as it gets. But the pro models use the fan output to increase the amount of bubbles produced. Also the bubble wands are made in many different designs, while the cheaper bubble machines have less design and performance.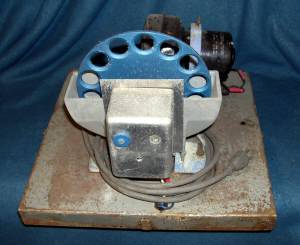 Above Authentic Lawrence Welk bubble machine, early Altman model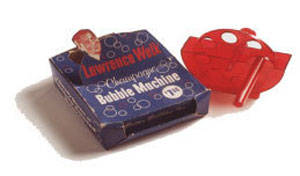 Below the last run of Altman Bubble machine. These machines were made out of cast iron, today's machines are plastic housing.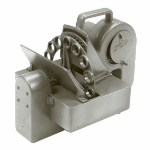 Bubble machines have been available for decades, primarily as special effects for show bands or attention-seeking shop owners. Perhaps the most famous use of bubble machines occurred weekly on the American television program The Lawrence Welk Show. Welk's sophisticated arrangements of popular hit songs was often called 'Champagne music', so Lawrence Welk used his bubble machines to suggest the bubbles found in champagne coming alive on stage.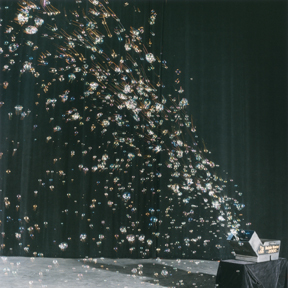 Because soap bubbles create attention, store owners may mount outside of their shop
Bubbles are a great special effect -Bang for the Buck!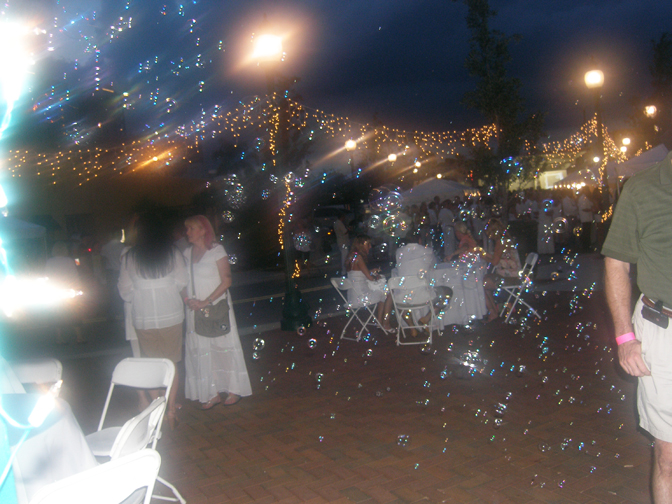 Breathtaking High Volume Bubbles ZONE to Add atmosphere!
Blow 'em away with bubbles! A bubble machine will enhance the music and overall ambiance of small parties or big corporate events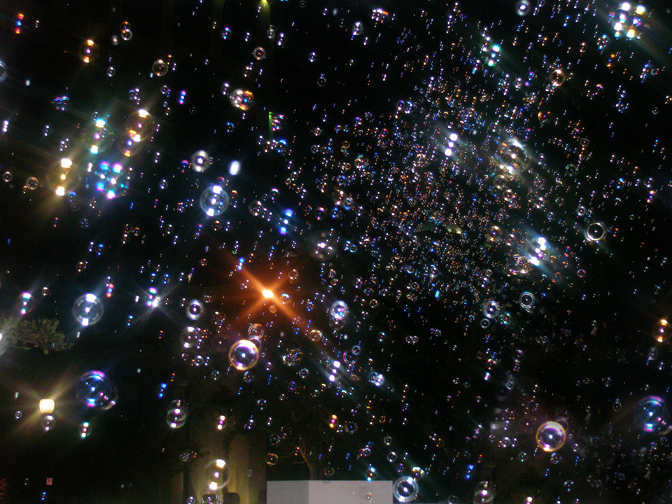 Bubble Machines pricing starts with our 3 machine package.
With Bubbles sizes 1"- 2"- 4"- 12" - 20" round and high floating helium filled Bubbles!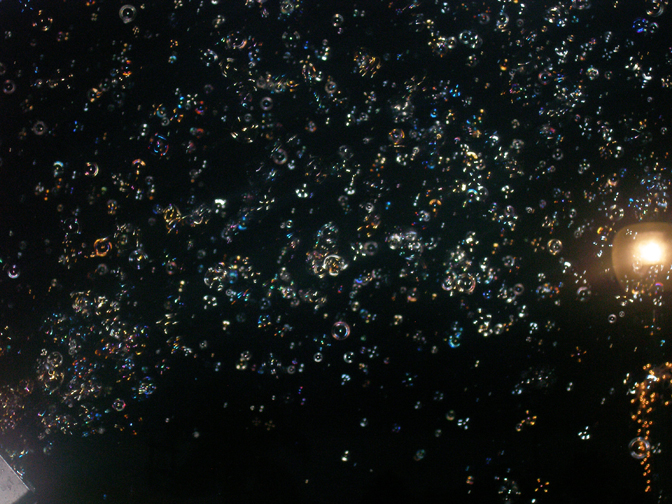 Company New Year's Eve parties, holiday celebrations, sports events, Companies Picnics, even a great special effect for trade show presentations and children's theatre. Gain attention!!!! Add atmosphere!
Bubble Machine Options;
Smoke Fill Bubbles
Helium Filled Bubbles
Bubble Wands
Doubling up and Tripling up Bubble Machines
Bubbles from 1" - 20"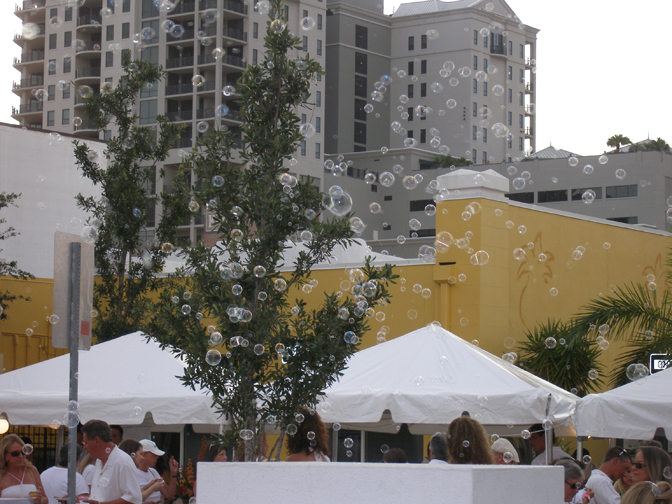 With 2000-3000 bubbles per Bubble Machine minute with the ability to project them a distance of up to 50 feet, this equipment creates a bubble fantasy land that is truly breathtaking. High Volume Bubbles from 1"- 2" - 4" - 8'- 12" 20" dia is possible.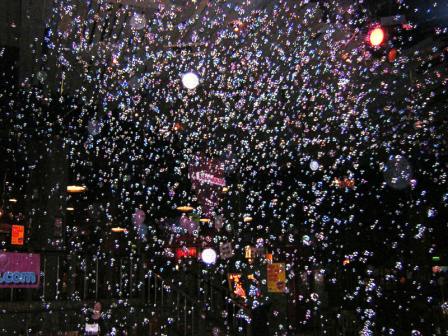 Photo is bubble zone tripled up with bubble machines of different types.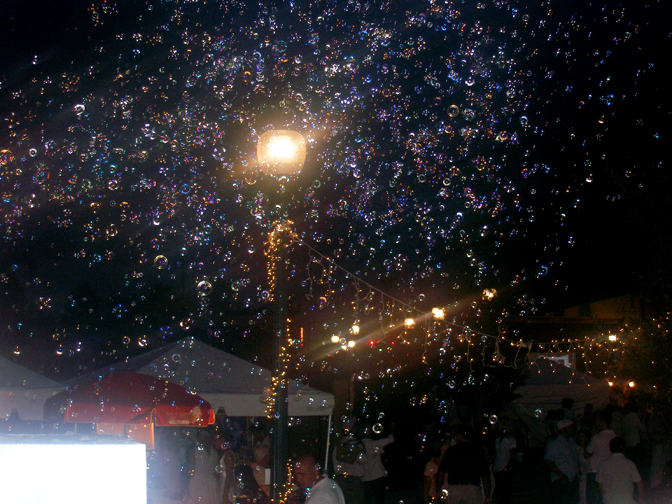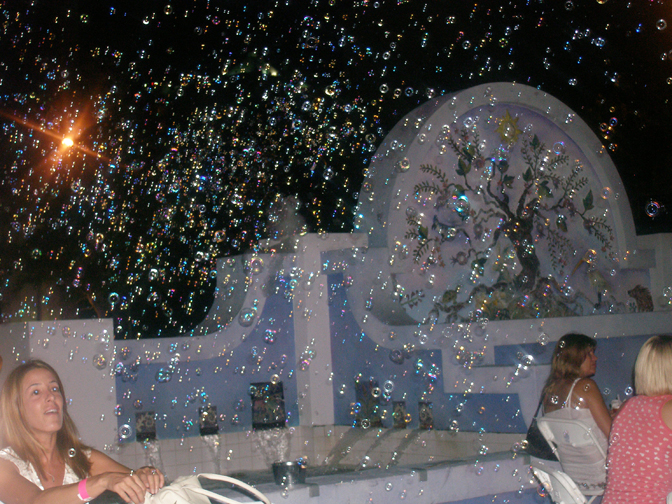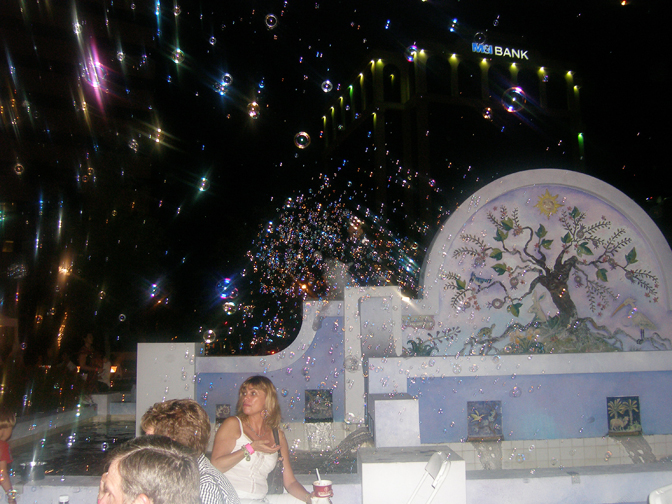 Everyone loves bubbles seen at this block party
We use all our machines for corporate and special events, so these are the best machines and all have features that have serviced us well. Nobody has a inventory like the effect Specialist. Below is all the bubble machines units we employ;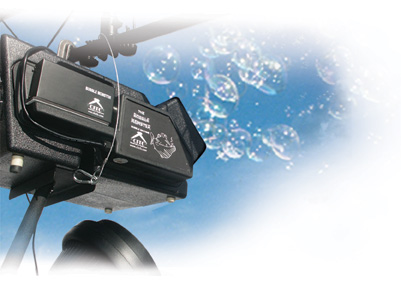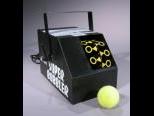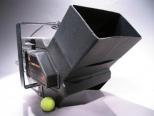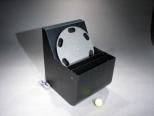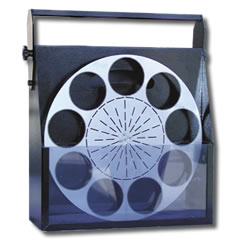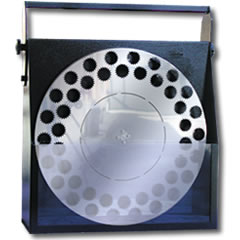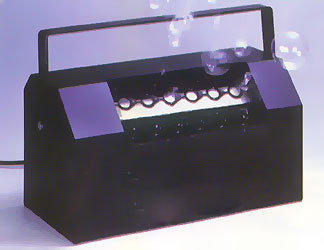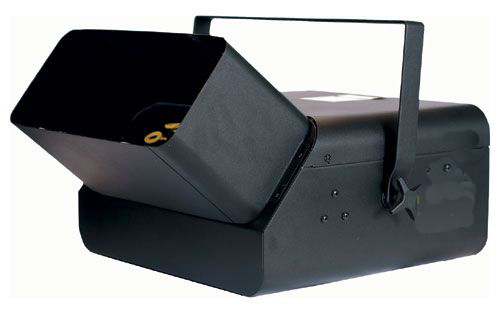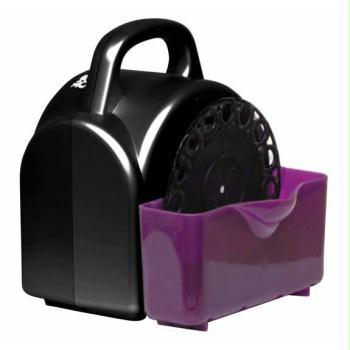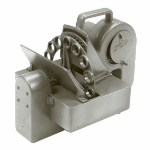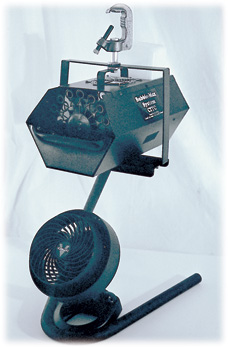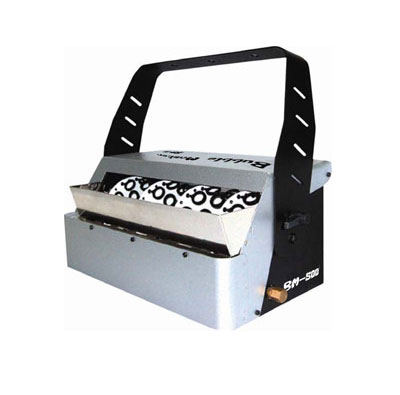 You can rent a bubble machines or have full service.
Our Bubble Machine rentals are as follows most recent price listing and inventory;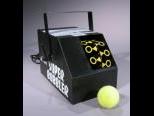 Super Bubble
Hundreds of smaller 1" - 2" bubbles per min rents For 75.00 a day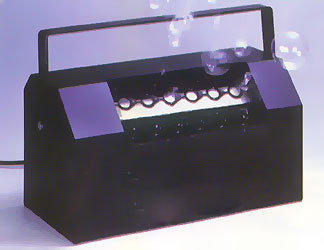 The Queen
Hundreds of smaller 1- 2" bubbles per min rents for 75.00 a day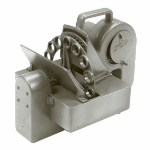 The Welk
No longer made Altman bubbles machine 2-5 inch bubbles Rents for 150.00 a day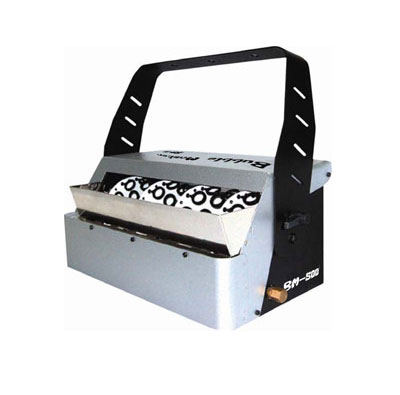 Small - Med Bubbles
The Bubble Master 550 with 3 powerful fans and DMX and wireless on board rents for 125.00 a day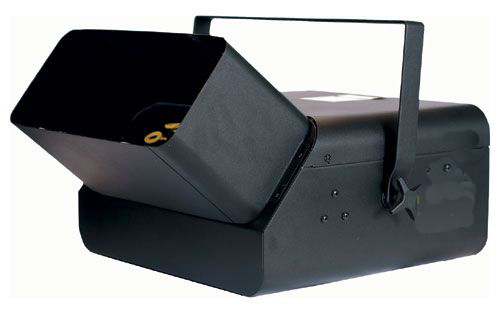 The King is our favorite machine for producing bubbles 125.00 A day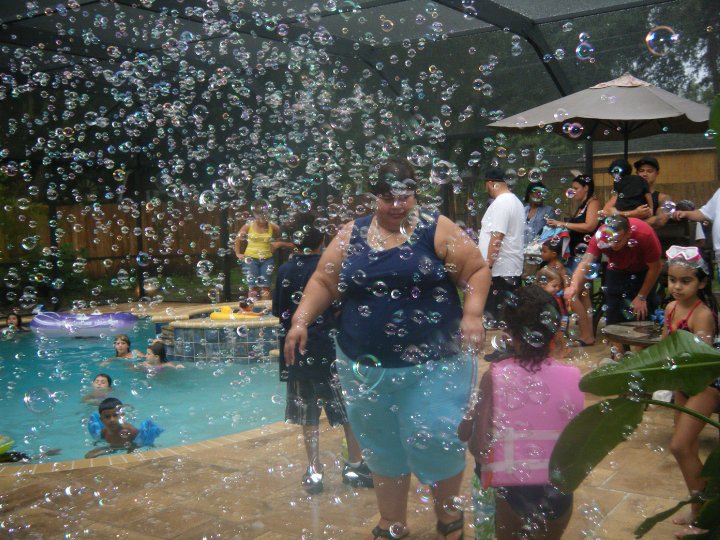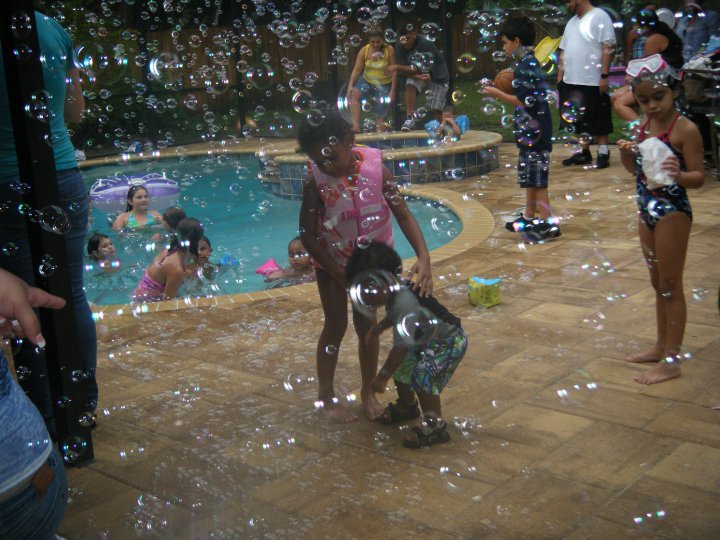 The King makes an enormous quantities of bubbleand projecting up to 20 feet away .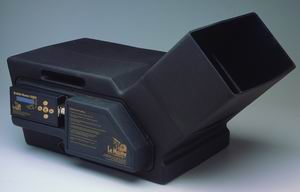 The Master
Over 12,000 bubbles per minute, seen by every major theme park in the world. Is equipped with high power fans that offer a variable speed control which allows for greater flexibility in the bubble projection. Rents for 150.00 a day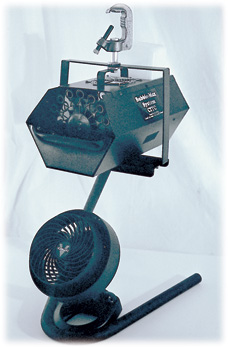 The Bubble Maxed Out Combo
This system with 16 wands will send 1.25" - 3" bubbles (1200-1400 bubbles per minute) up and outward to 40'. The larger reservoir ( 3 qts. = 4 hrs) produces a continuous three hour output lowest residue and the least amount of splatter (Least Amount of Splatter in front of machine!). Fewest Amount of Premature Bursting Bubbles (when using Bio-Bubble Fluid)! Seen in the Aerosmith Concert Tour. Rents for 275.00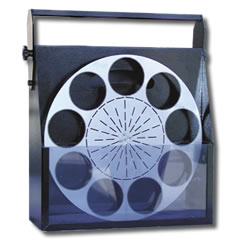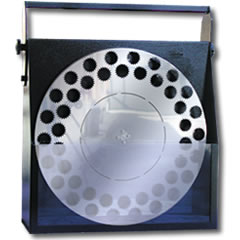 The Monster
Giant Bubbles 12" - 20" or Super Volume output ( splatters 6 feet to the front) This is seen at Disney Special events. This unit is heavy and is costly to ship.Rents for 450.00 a day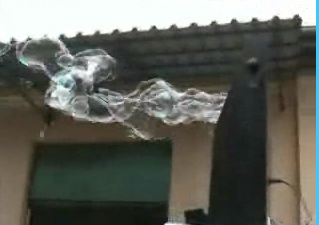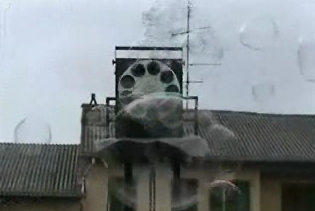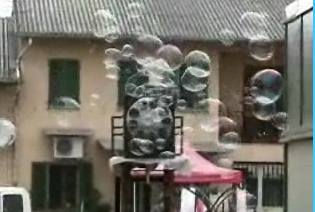 The Monster
)
The Monster bubble Machine - No longer made,the Monster makes bubbles 2 -12" big. Rents for 275.00 a day
The New Power Bubble Tube Coming Soon! New Product to USA,never seen before.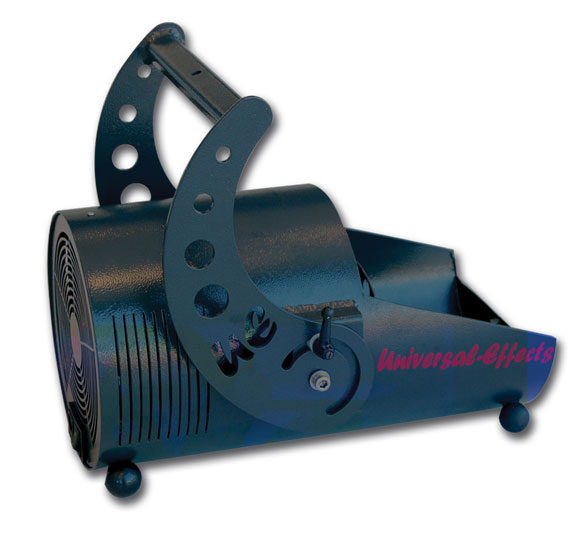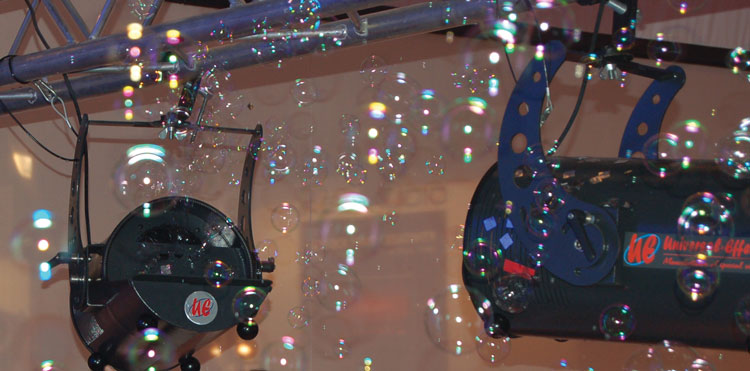 Compact and powerful bubbles machine to be hung or put on the ground. Designed for an easy use, low noise and very reliable, it works on events, as well in concert, theatre or TV shows. The size of the bubble
brings you a spectacular visual presence. The Bubble Tube rents for 175.00 a day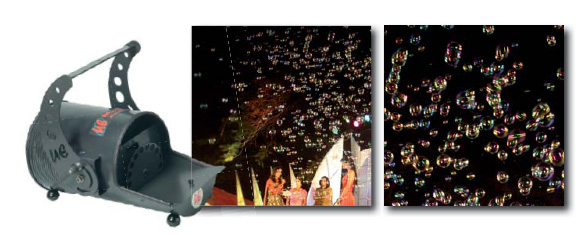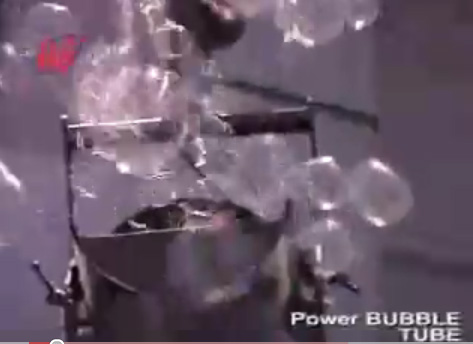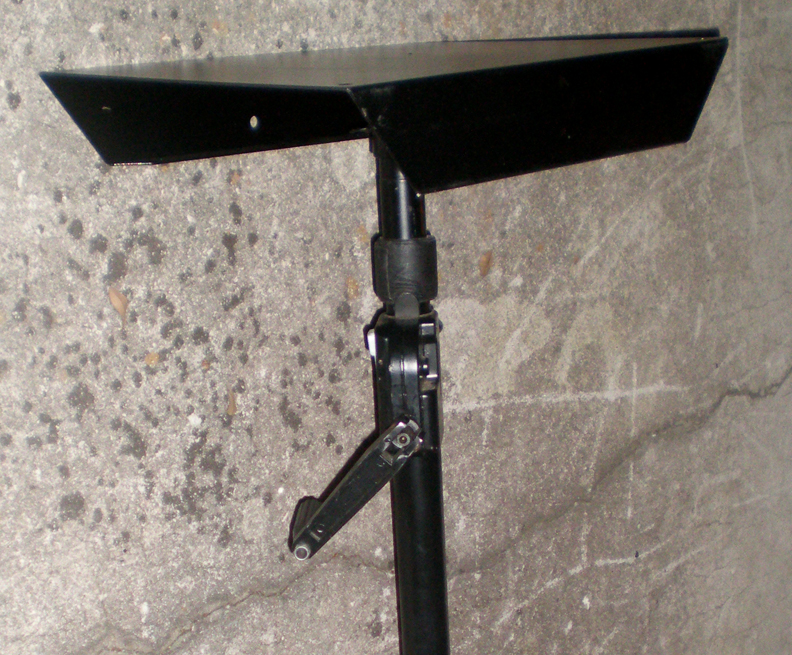 Tripod Stand Plate Rents for 20.00 a day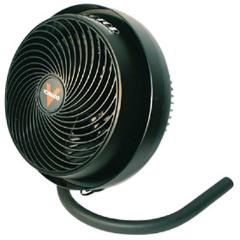 Directors fans Moves air 100 feet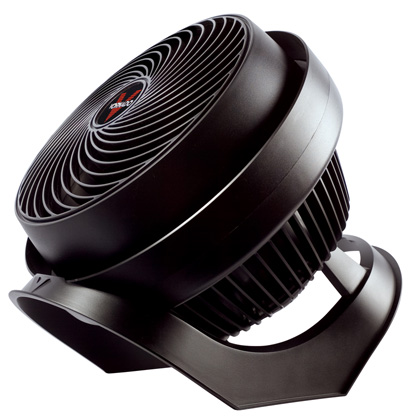 Directors 2 fan Moves air 100 feet
No longer made Monster bubbles 2-12" Rents for 400.00 a day Large follow of huge bubbles
Fluid Consumption: 1 Gallon = 50 min. @ 100% Output/Fluid not included in rental
Bubble fluid sells from 30.00 - 70.00 dollars
Formula price range
Delivers strong, long-lasting, iridescent, brilliant, colorful bubble
Evaporative Bubble Fluid 45.00
Bubble it Thinner bubbles for short distance 45.00
BUBBLE SCIENCE for 10 x more bubbles 68.00
Bio Bubbles They don't even break in the rain! Completely biodegradable 86.00
Bubbles That are drier, last longer 45.00
Bubbles scented 105.00
Original bubble fluid 18.00
Effect Specialist zigmont@zigmont.com 813.689.6269 zigmont@effectspecialist.com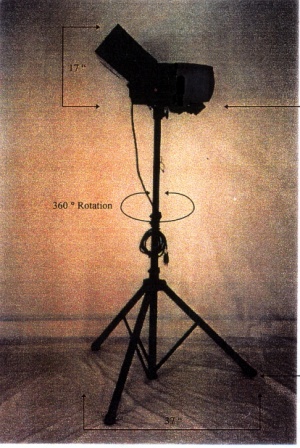 Call Magic F/X 813.689.6269
Warning
Do not attempt to recreate any FX effects seen on this site. We are professional and only experienced and legally approved over 21 can provide these services. Attempting to use propane with our the safety devices that are built in to our gear as well as firing pyrotechnics devices without training is dangerous. C02 can be very dangerous if your not a Certified effect specialist.

Effectspecialist.com provides pyrotechnics displays and propane flames presentations with full services nationwide We operate in North America United States we can service you in the follow cities with speedy services in;

Special effects for Entertainment Venues and clubs, snow machines Service in Alabama; Anniston, Birmingham, Dothan, Huntsville, Mobile, Montgomery, Tuscaloosa
High Range - High Volume Artificial or Fake Snow Flake Machines Service in Arizona; Flagstaff, Phoenix, Tucson, Yuma
Propane flames Service in Arkansas; Eureka Springs, Fayetteville, Fort Smith, Jonesboro, Little Rock, Monroe
Snow machines from flurries to a beautiful full blown Snowstorm Blizzard , cryo co2 and ground fog Service in California; Anaheim, Antelope Valley, Antioch, Bakersfield, Burbank, Chico, Eureka, Fresno, Hollywood, Huntington Beach, Inland Empire, Lake Tahoe, Livermore Valley, Long Beach, Los Angeles, Medford, Monterey, Napa Valley, Oakland, Orange County, Palm Springs, Pasadena, Sacramento, San Diego, San Francisco, San Jose, Santa Barbara, Santa Monica, Temecula, Ventura County, Yuma
Theatrical FX bubble machines and indoor pyrotechnics displays Service in Colorado: Aurora, Boulder, Colorado Springs, Denver, Fort Collins, Grand Junction, Vail,
Special effects Service in Connecticut, Danbury, Hartford, New Haven, Stamford
Fake snow machines gas FX flames Service in DC; District of Columbia
Bubble machines services Low-level Displays Super Bowl Style Pyro and cryo Service in Delaware; Dover, Georgetown, Wilmington
special effect fake snow machines, foam machines pyrotechnics, fireworks and Propane dragonfly flames Service in Florida; Boca Raton, Daytona, Florida Keys, Fort Lauderdale, Fort Myers, Fort Pierce, Gainesville, Jacksonville, Marco Island, Melbourne, Miami, Ocala, Orlando, Panama City, Pensacola, Sarasota, Tallahassee, Tampa Bay, West Palm Beach
Fireworks fX Pyrotechnical, fake snow machines Service in Georgia; Albany Athens, Atlanta, Augusta, Columbus, Golden Isles, Macon, Savannah
Special effects Co2 outdoor snowfall machines Service in Hawaii; Hawaii Island, Honolulu, Kauai Island Lanaie Island, Maui, Molokai Island
bubble machines foam machine rental Service for Idaho; Boise-Pocatello, Coeur D Alene, Idaho Falls, Lewiston, Sandpoint, Twin Falls
Pyrotechnics and flames Service in Illinois; Bloomington, Champaign, Chicago, Davenport, Evanston, Mt. Vernon, Oak Lawn, Peoria, Quincy, Rockford, Springfield, Wheaton
FX fire and pyrotechnics table top gerbs Services Indiana; Evansville, Fort Wayne, Hammond, Indianapolis, Lafayette, South Bend, Terre Haute
Evaporating DRY Snow machines, pyrotechnics and flames Service in Iowa ; Cedar Rapids, Davenport, Des Moines, Ottumwa, Quincy, Rochester, Sioux City
Fireworks pyrotechnics, propane flame, snow machines Service in Kansas ; Dodge City, Goodland, Great Bend, Kansas City Lawrence, Manhattan, Salina, Topeka, Wichita
Full event services, snow machine FX Kentucky; Ashland, Bowling Green, Elizabethtown, Hopkinsville, Lexington, Louisville, Owensboro, Paducah
Bubbles FX, pyro Service in Louisiana ; Alexandria, Baton Rouge, Lafayette, Lake Charles, Monroe, New Orleans, Shreveport
inside Pyrotechnics or outdoors pyrotechnics displays Service in Maine; Augusta, Bangor, Lewiston, Ogunquit, Portland, Presque Isle, York
Bubble ma chi en effects Cryo and snow falling displays Maryland; Annapolis, Baltimore, Columbia, Eastern Shore, Laurel, Montgomery County, Rockville, Salisbury, Southern,Western
Magic FX Service in Massachusetts with low ground fog; Birkshire County, Boston, Cape Cod, Lowell, Springfield, Worcester, Service for Michigan , Ann Arbor, Detroit, Flint, Gaylord, Grand Rapids, Jackson, Kalamazoo, Lansing, Marquette, Port Huron, Saginaw, Saint Clair Shores, Sault Saint Marie, Traverse City, Tri-Cities, Warren,
bubble machines party foam machines and sorrow jets Service in Minnesota; Duluth, Mankato, Minneapolis, Moorhead, Rochester, St. Cloud, St. Paul, Twin Cities
Fireworks and pyrotechnics, flame FX, snow machine rentals Service in Mississippi; Biloxi, Greenwood, Hattiesburg, Jackson, Meridian,Service in Missouri . Clinton, Columbia, Jefferson City, Joplin
Flames and propane fire Kansas City; Ottumwa, Paducah, Quincy, Sedalia, Springfield, St. Joseph, St. Louis,
Next FX pyrotechnics products used in Servicing in Montana; , Billings, Bozeman, Butte, Glendive, Great Falls, Helena, Missoula
Fake snow machines, Snow falling events, cryo jets, crawling smoke, bubble machines consulting Service in California; Anaheim, Antelope Valley, Antioch, Bakersfield, Burbank, Chico, Eureka, Fresno, Hollywood, Huntington Beach, Inland Empire, Lake Tahoe, Livermore Valley Long Beach, Los Angeles, Medford, Monterey, Napa Valley, Oakland, Orange County, Palm Springs, Pasadena, Sacramento, San Diego, San Francisco, San Jose, Santa Barbara, Santa Monica, Temecula, Ventura County, Yuma
Special effects foam machines , pyro services Nebraska ; Beatrice, Cheyenne, Freemont, Grand Island, Lexington, Lincoln, Norfolk, North Platte, Ogallala, Omaha, ScottsBluff
special effect propane Flame effects and indoor pyrotechnics , snow falling Service in Nevada; Lake Tahoe Las Vegas, Reno

Bubbles machines and foam machines Service in New Hampshire; Concord Dartmouth, Lakes Region, Manchester, Monadnock Region, North Woods, Seacoast Region, Southern, White Mountains
Full service special effects for movies and theme parks Service in New Jersey; Atlantic City, Bayonne, Belmar, Bloomfield, Camden, Carteret, Hackensack, Hoboken, Jersey City, Montclair, New Brunswick, Newark, Old Bridge, Paramus, Point Pleasant Seaside Heights, Secaucus, Trenton, Wildwood
Confetti and streamer and Snow Service in New Mexico Albuquerque, Santa Fe
Bubble machines Confetti and streamers special effect, artificial snow Service in New York; Albany, Binghamton, Brooklyn, Buffalo, Burlington, Elmira, Hudson Valley, Long Island-Nassau County, Long Island-Suffolk County, Long Island-The Hamptons, Manhattan New York City, NY City, Oneonta, Queens, Rochester, Rockland, Staten Island, Syracuse, Utica, Watertown, Westchester,

Pyrotechnical and fireworks, snow machines Service in North Carolina; Charlotte Durham, Fayetteville, Greensboro Greenville, Raleigh, Rockymount, Western, Wilmington, Winston Salem

special effects Service in North Dakota; Bismarck Dickinson, Fargo, Grand Forks, Jamestown, Minot, Williston

Pyrotechnicians and flame operator Services in Ohio; Akron Cincinnati, Cleveland Columbus Dayton Lima, Toledo, Wheeling, Youngstown, Zanesville

Special effect events, Gale Force Wind Fans Service in Oklahoma; Oklahoma City, Tulsa, Wichita Falls

FX machines, snow machine rental Services in Oregon; Bend, Eugene, Klamath Falls, Medford, Portland, Salem,Service in

Magic FX pyrotechnics, flame FX Special effect rentals Pennsylvania , Allentown, Erie, Harrisburg, Johnstown, Philadelphia, Pittsburgh, Poconos, State College, Wilkes Barre, York

Bubble machines Cryogenic Venturi Smoke Effects FX services in Rhode Island; Newport, Providence

snow displays Services in South Carolina ;artificial indoor snow Charleston, Columbia, Florence, Greenville, Hilton Head, Myrtle Beach, Rock Hill
Bubble effects ,Aerotechnics Confetti & Streamers, Foam machine Service in South Dakota; Rapid City, Sioux City, Sioux Falls

snowmastesr snow machines, propane flames, Licensed flames pyrotechnics operator Service in Tennessee; Chattanooga, Jackson, Knoxville, Memphis, Nashville, Tri Cities

Pyrotechnics and Gas Flames operators, Motorized Spinning gerbs snow machines, Licensed flames pyrotechnics operator services for Texas ; Abilene, Amarillo, Austin, Bay City, Beaumont, Corpus Christi, Dallas, El Paso, Fort Worth, Galveston, Harlingen, Houston, Laredo, Lubbock, Odessa, San Angelo, San Antonio, Texarkana, Tyler, Victoria, Waco, Wichita Falls

FX consulting Service in Utah; Provo, Salt Lake City

indoor snowfall machines Service in Vermont; Burlington, Manchester, Middlebury

Pyro and flame Services in Virginia; Charlottesville, Fairfax, Fredericksburg, Hampton, Harrisonburg, Manassas, Norfolk, Northern, Richmond, Roanoke, Vienna

special effect machines and pyrotechnics and fireworks Service in Washington; Olympia, Seattle, Spokane, Tacoma, Vancouver, Wenatchee, Yakima

Confetti and bubble machines Service in West Virginia; Beckley, Charleston, Clarksburg, Huntington, Parkersburg, Wheeling

Smoke FX for corporate events Service in Wisconsin; Appleton, Ashland, Eau Claire, Green Bay, Janesville, Madison, Milwaukee, Oshkosh, Prairie du Chien, Racine, Rhinelander, Superior, Waukesha, Wausau
Theatrical effects and pyrotechnic Service in Wyoming; Casper, Cheyenne, Gillette, Jackson Hole, Rock Springs