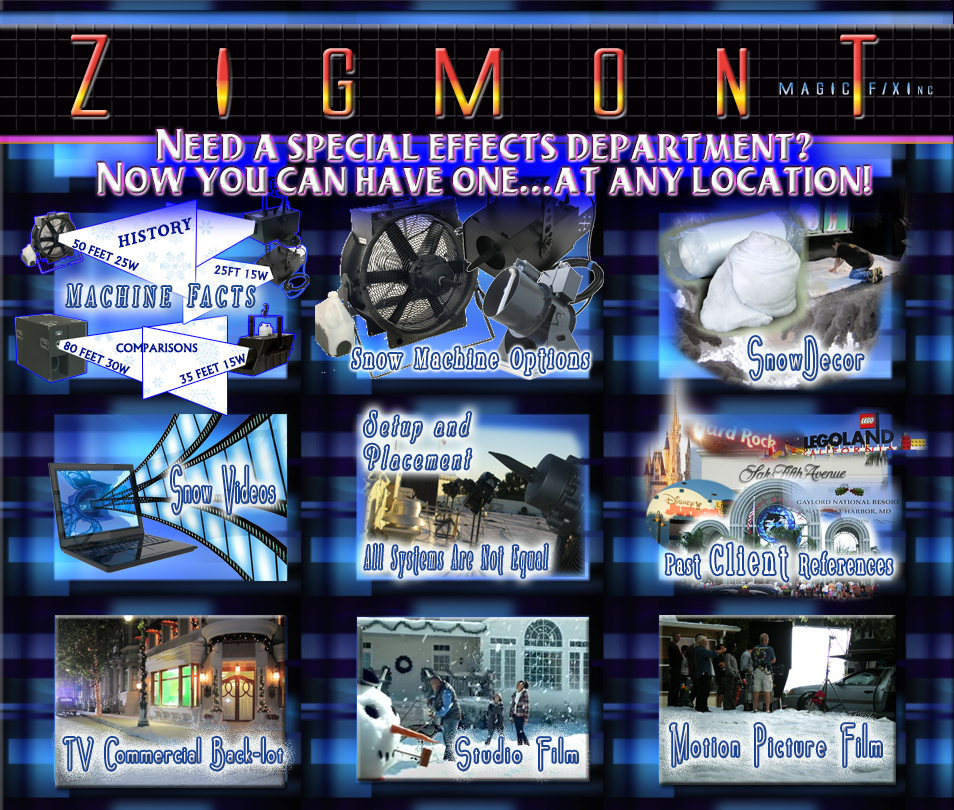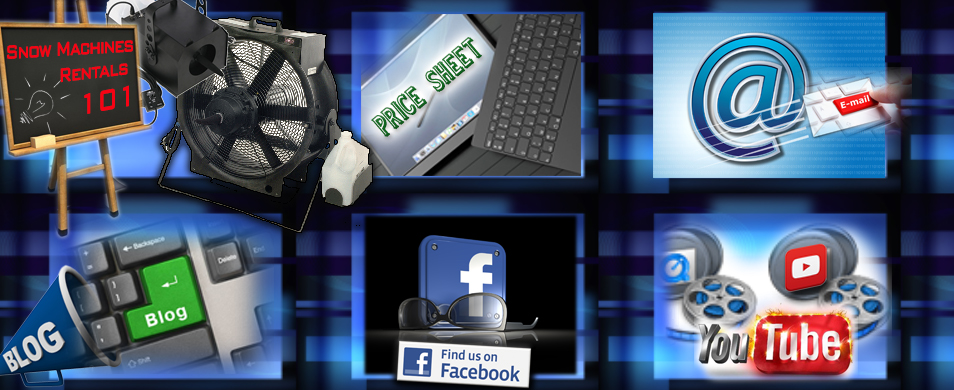 Snow Services Frequently Asked Questions
What is Evaporative Snow made of?
Evaporative Snow ™ is a laboratory formulated foam based solution that makes the brightest looking evaporative snow product. It is basically 98 percent water and two percent surfactant. Surfactants are elastic chemicals that make the hollow flakes. This solution, used in our snow machines, creates a realist looking snowfall. The solution is aerated at 1/10,000. The water starts to evaporate within seconds making the flakes become smaller and lighter until they disappear. The surfactant chemical becomes microscopic particles. The surfactants used in our formulation are of the highest cosmetic grade possible.
Our snow fluid formula is made of 98.7 % De ionized filtered water and 1.3 % surfactant and other agents ( "surface active agent") Surfactants are wetting agents that lower the surface tension of a liquid, allowing easier spreading, and lower the interfacial tension between two liquids with Fatty acids, while fatty acids derived from natural fats and oils, a fatty acid is a carboxylic acid often with a long unbranched aliphatic tail (chain). The Snow Solution other % is Triethanolamine.
The Triethanolamine ingredient is used as a pH balancer in cosmetic preparations in a variety of different products - ranging from skin lotion, eye gels, moisturizers, shampoos, shaving foams etc
They are non-allergenic, biodegradable, non-toxic and non-staining. Other brands of snow fluid can make you cough or give a irritated throat. The water content evaporates quickly leaving a beautiful falling flake that is dry to the touch and disappears after contact leaving no residue or mess.
We have no alcohol in our snow fluid like other snow fluids that the flakes get smaller unnaturally as they float through the air
Will the Evaporative Snow ™ stain anything?
When our fake snow machines are used properly, they leave no moisture. We have been making it snow for almost 20 years, and we have never received one compliant about staining. Our fluid uses De ionized filtered water; this product was originally used in the movie industry so that if the snow landed on a camera lens it would not leave a water ring.
Is it slippery?
The product, when used with the right settings, can run continually without causing any damp or slippery surfaces. The non slip factor is based on the Fatty acid derived. We need a starting height of 15 and max height or 30 ft.
Can it be used around food?
Many caterers and event planners use this product as part of a display, entrance ways to a party or as a "wow" effect as guests sit to have a full course meal. It is also used for weddings as the bride and groom cut the cake. It is even kosher. The 99 steps of Flake control is the key. Its only a snowmasters snow machine feature.
Does it have an odor?
No, it has no odor or taste.
So what is it?
This is not ice or real frozen snow. The quick answer is its a fake snow flake, which is dense foam blown through a special filter that creates small and various sizes of tiny white bubble flake like clusters creating the illusion of snow. Once it falls to ground, snow will remain white for up to 90 seconds when it will disappear DRY.
Our Snow is:
MADE IN USA
REALISTIC SNOWFALL
BIODEGRADABLE
EVAPORATES WITHIN 30 - 90 SECONDS
FIREPROOF
NO MESSY RESIDUE NON SLIPPERY
ODORLESS
WON'T STAIN
NON-ALLERGENIC
KOSHER COMPLETELY SAFE WITH FOOD
SNOW LANDING ON A CAMERA LENS WILL NOT LEAVE A WATER SPOT
NO MOISTURE
NO CLEAN UP, NO MESSY RESIDUE & NON SLIPPERY, ONLY WITH SNOWMASTERS EVAPORATIVE SNOW™ BRAND
Static coefficient of friction
We are the only snow provider that tests snow fluid for wetness - slippage on various floor surfaces, a coefficient of friction meter test. We have had several independent tests recently with major theme park clients and past with flying colors. We also can provide coefficients of friction measurement slip tests for our clients when requested.
A 0.50 COF or above has been recognized as providing non-hazardous walkways surfaces which is accepted industry standards as adopted by UL, ASTM and OSHA. These agencies set many requirements for floor safety under 29 CFR-1910 referring to providing floors of anti-slip surfaces or maintaining surfaces in non slip conditions in commercial building. It is generally considered in the industry that a walkway surface with a coefficient of friction higher than 0.50 is non-hazardous.
In all cases, the coefficient of friction value increased after running hours of falling snow with Snowmasters Evaporative Snow® fluid brand.
Our snow fluid test results found that floor surfaces are rated drier by 0.20+ after we ran snow for a long duration cycles over time and tested the same surfaces when dry. No particle accumulated weigh on the surface either. That why you only see Evaporative Snow ™ machines and Evaporative Snow® fluid brand only used in theme parks worldwide.
Recent Results From Surface Slip Test Word Doc
Systems are Not Equal - Ever Wonder Why/Facts about Snow - Snow Option- Choices - Snow Clients