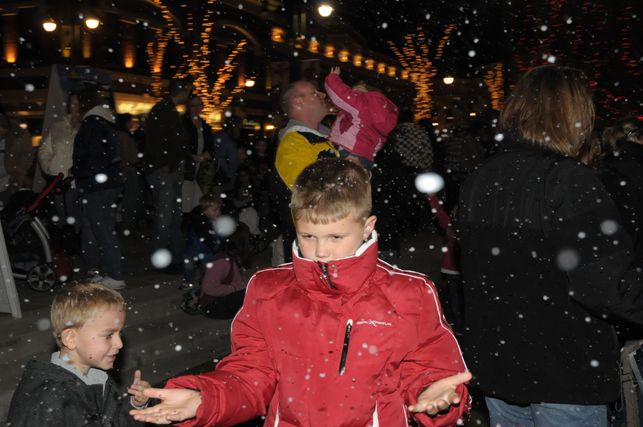 Snow Falling Event at The Greene Mall use our T-1000's
Snow staged for a The Magic Of Mr. Bones Magic Show for Big Brother and Big Sister Fund Raiser.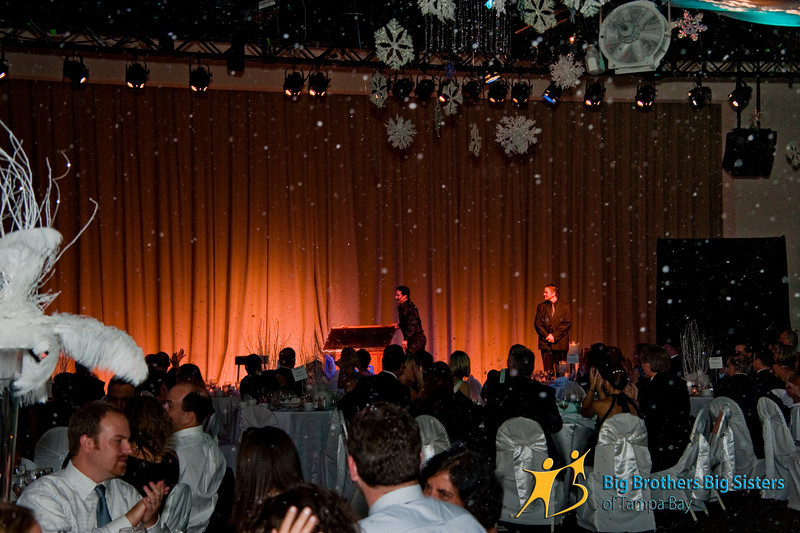 The photos above are the snow machines at 40 % capacity, below the snow machines are at 90 % throttle.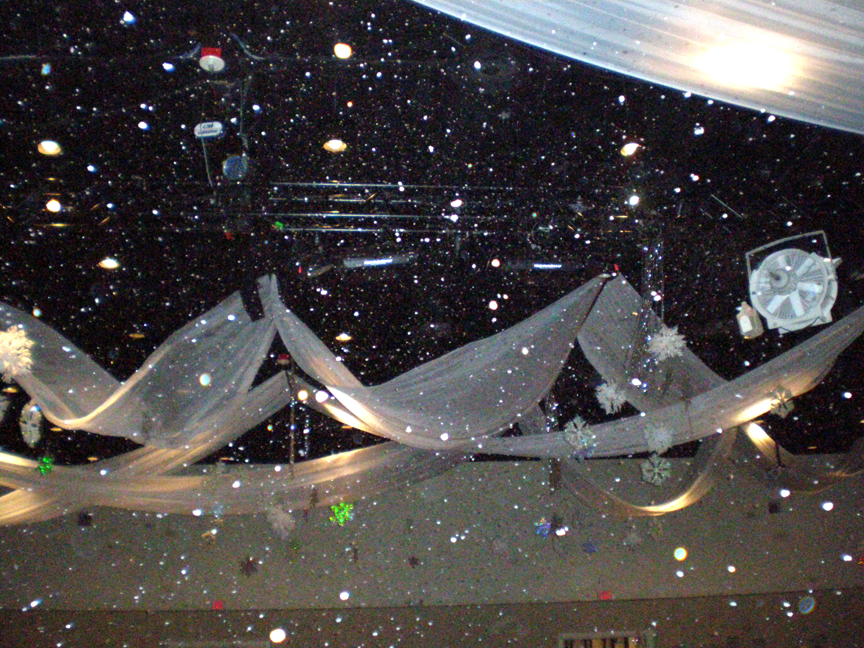 A snow storm in a Ballroom with our snow zone T-1500 machines, for Big Brother Big Sister Fund Raiser Tampa Florida.
Power Head Snow Machines Tour Version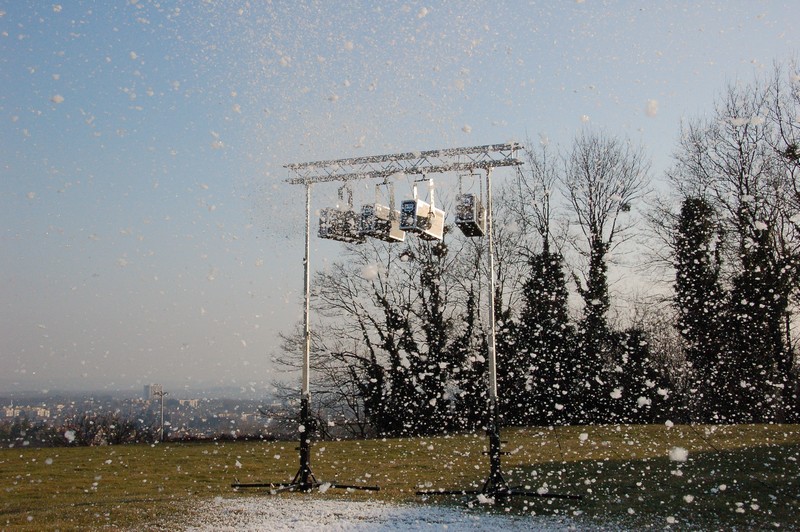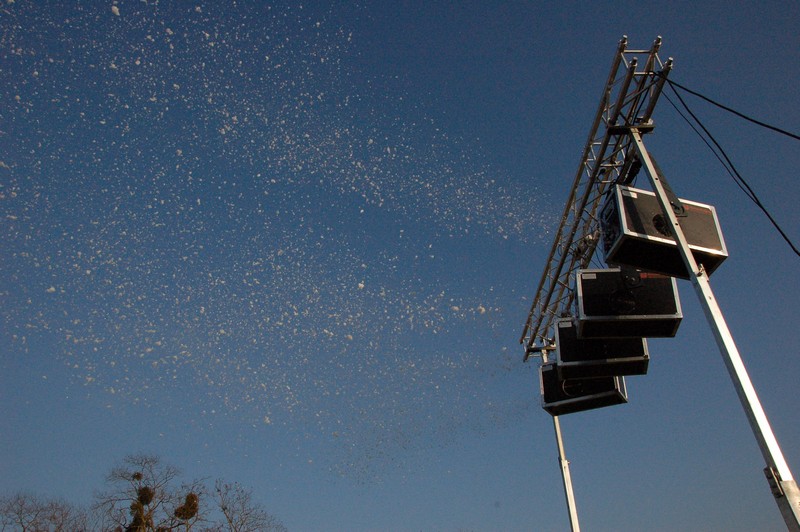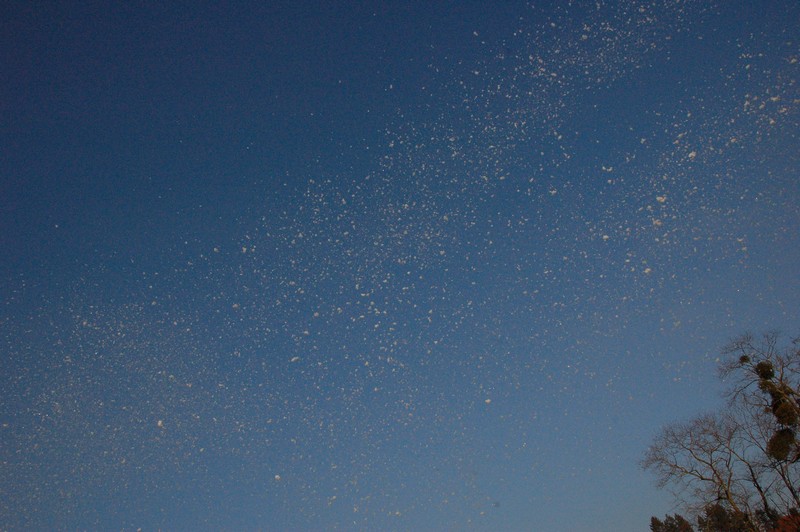 Snow Fluids
We now have Value Snow fluid is recommended for use when slight residue or a "wetter" snow is not a concern. Produces a heavier flake which don't allows more volume of larger flakes as much small flake snow output.
Extra Dry Snow Juice Fluid - Most Popular Evaporative Formula. Specially formulated for the full range of snow machines available on the market today. Industry Standard Snow Fluid creates a high yield of dense, white, air-born snow ideal for any stage or theatrical setting.
PERFECT Snow Juice Machine Fluid - Flakes Perfect (30-50 Foot Float / Drop) Low Residue Formula. Specially formulated for the full range of snow machines available on the market today. Industry Standard Snow Fluid creates a high yield of dense, white, air-born snow ideal for any stage or theatrical setting.
DRY Snow Juice Machine Fluid - Flakes (50-75 Foot Float / Drop) Low Residue Formula. Specially formulated for the full range of snow machines available on the market today. Industry Standard Snow Fluid creates a high yield of dense, white, air-born snow ideal for any stage or theatrical setting.
LONG LASTING Snow Juice Machine Fluid - Flakes (75 Foot Plus Float / Drop) Slow Evaporation Formula. Specially formulated for the full range of snow machines available on the market today. Industry Standard Snow Fluid creates a high yield of dense, white, air-born snow ideal for any stage or theatrical setting.
We carry fluids from Snow masters for the Professional Series and Snow boy for the Commercial Series and Studio Series machines. Different machines can use different fluid.
Now with Scented Snow Fluid We can provide custom scents to further the experience.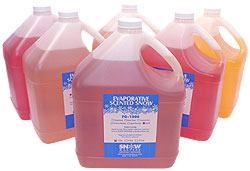 These fluids are lightly scented and evaporate at the same time that the snow evaporates. As with our other solutions guaranteed never to clog our machine or leave residue. One gallon produces up to 60 minutes of continuous snow depending on the desired size of the snowflake
The snow fluid is aerated and the scents are produced as the snow is sprayed. These are the scents are;
"Apple Cinnamon"
"Brown Sugar"
"Christmas Morning
"Cinnamon Bun"
"Gingerbread"
"Vanilla"
We can create a scent for you.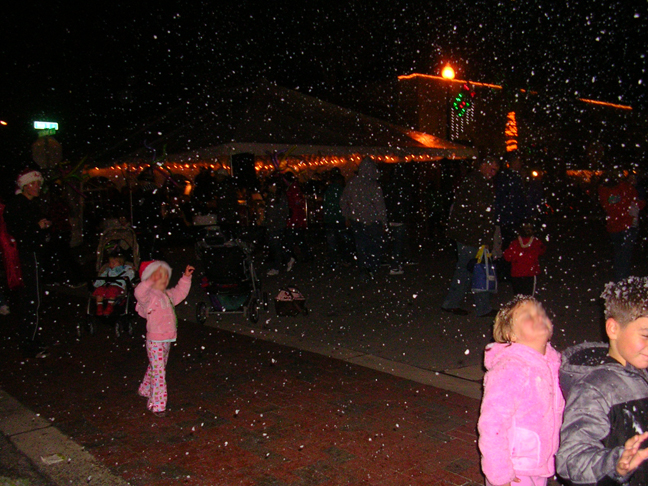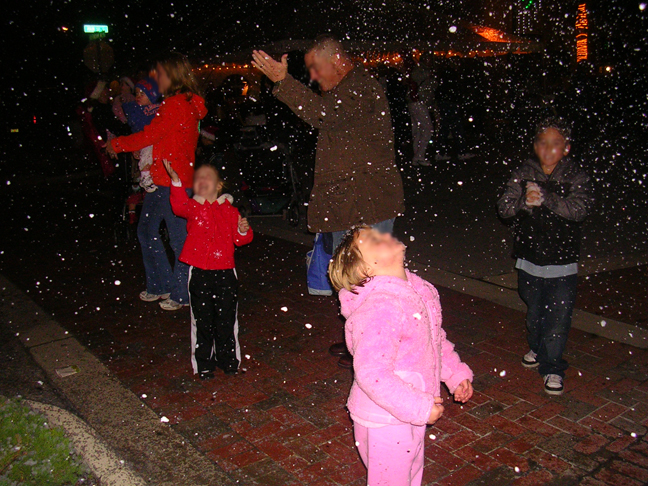 Our Ground bases machines T-1500 Making a snow event for The City Of Taverns Winter Festival.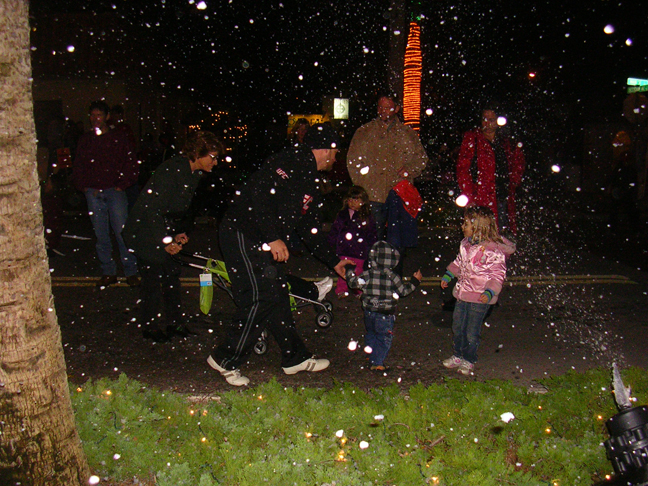 Weather covers allow the air flow, which is designed under the machine to allow weather covers shown above on all models for high volume High range of our blowers. Modes listed below are side air intake.
Effect Specialist are Producers of Snow Events
A handful of Faux snow machine Event Producers exist on the market, but our products are so vastly limited and different that it should be a crime to lump them into the same category as us. We stand out from the rest.
The right snow machine makes all the difference and many snow machines look alike, but they don't perform the same. The machines listed below are Low range - Low output NON (not) EVAPORATING (meaning foamy wetter snow) Consumer Grade (china made) brand machines: You not getting special effects adopted direct from Hollywood movie sets if you machines are;
Cheviot : Entry : Vivid : Flurry : Snow Flurry : Silent Storm : True North : Evolution : Sound lab : Skitter : Starlight and Magic Pro : Om nisi stem : The Dragon : Snow Jet : Elation
Snow Events For Malls, Cities, Corporate Parties and Trade Shows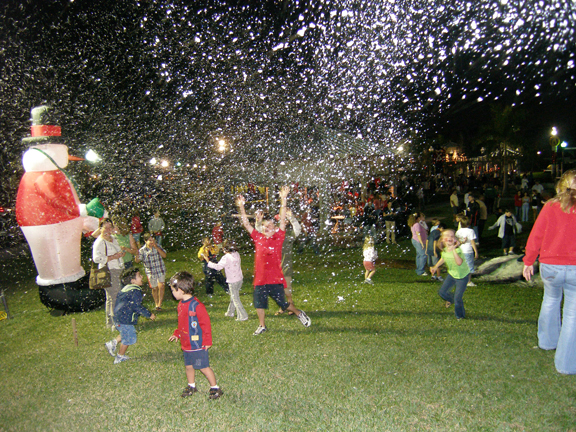 Royal Palm Beach Tree Lighting with Two T-1000's Mobility Snow Machines.
Snow Fall at Fashion Square Mall Orlando Florida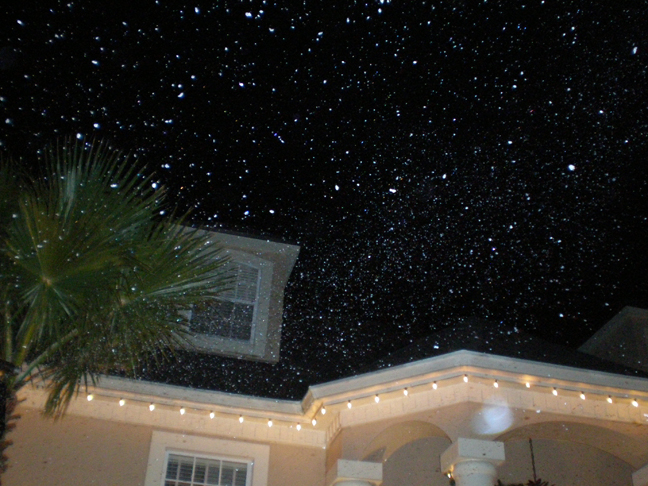 True Evaporative (dry) Snow Technology Snow Machines with;
Onboard DMX Software Options
Onboard On/Off Cycle Timers
Onboard Fans and Blowers in addition to the snow machine internal blower
High Volume Fluid Pumps and Quiet Blowers
We don't have cords daisy chained from machine to machine, we just need power to the machines.
We don't need a to have a snow technician on property once installed.
We don't need to move the machines out of weather, machines are weather proof.
We can attach our machines on lampposts, streetlights, trees, tripods, I-beams and trussing.
You Could Actually Have a Automated Nightly Snowfall At Your MALL!
Call Us @ 813 689 6269
Fake snow machines will create millions of evaporative snow flakes falling in the air, using a snow masters artificial snow machine.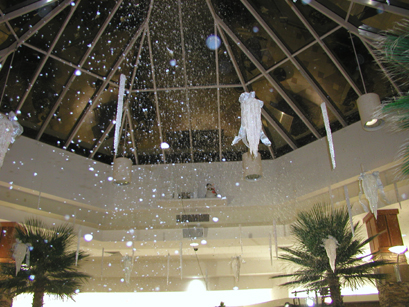 The above is Sherwood Mall CA.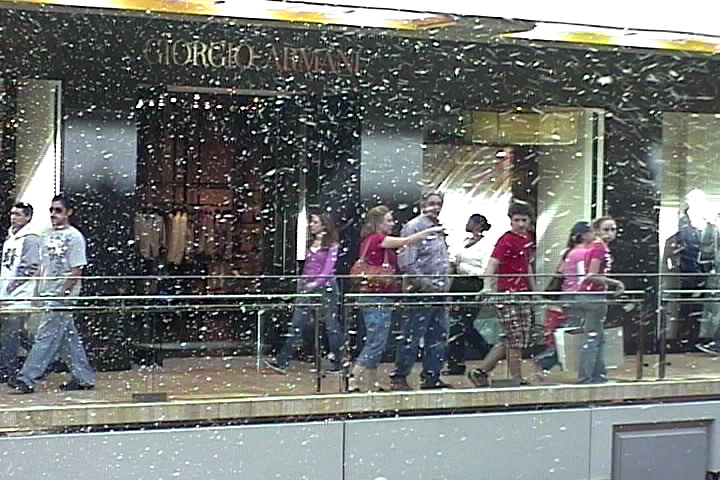 Simon Mall The Galleria Houston Texas
It is proven fact that snow events will attract shoppers from distant neighborhoods and improve the numbers of shoppers and keep then at your Mall longer. The snow falling event will make them feel the Spirit of the Holiday Season and shopping is improved hours after the snow event. This is why Disney decided this year to go from a 3 minute snow event each night to a 4 1/2 snow event from 2009.
This was the same thinking years ago with setting up a huge Lionel Toy Train Layout like in midtown Manhattan at Macy's NYC in th3 1960 - 70's.
The Galleria Simon Mall 2007 Snow Spectacular Video Demo with 6 Machines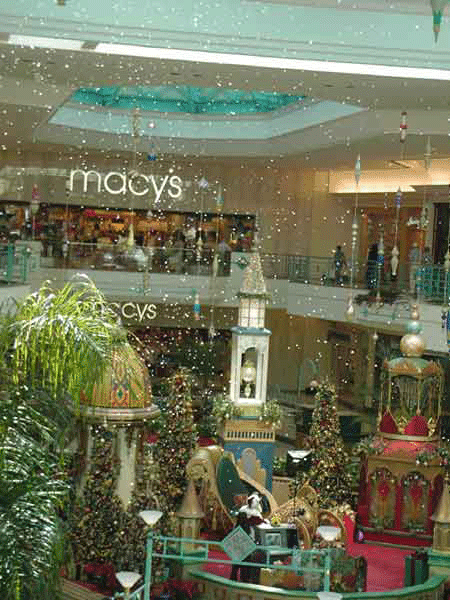 Day time or night time Kids are amazed at our snow and it will have your patrons in the season spirits.
Snow Evaporates On Cue
Our snow machines have DMX Software that allows the control of the 100 snow flake size options, which is the key to make the "flakes" disintegrate more rapidly. The "flake size" control varies the speed of the pump, and therefore the amount of fluid sprayed. More evaporating snow fluid results in more smaller and larger (up to 1/2) clusters of snowflakes, each flake are hundreds of tiny bubbles. If the machines are placed 10 foot off the ground we will need smaller flakes to make the snow evaporate before the flakes hits the ground. If the machines are placed 30 feet off the ground a larger flake 1/2 size can be used.
Control The Flake The flakes size and travel time makes the snow evaporates on cue. Our smaller fills the air with more snowflakes and floats longer in the air and evaporates magically in 30 to 90 seconds.
10ft use 3/16 inch flake to make snow evaporates on cue
20ft use 1/8 - 1/4 inch flake to make snow evaporates on cue
30ft use 1/4 - 1/2 inch flake - to make snow evaporates on cue
Only our professional grade snow machines have these abilities.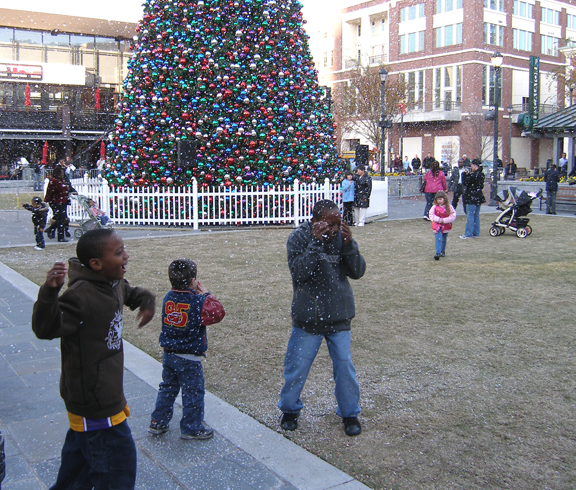 Atlantic Station Tree Lighting Atlanta GA 2006-2013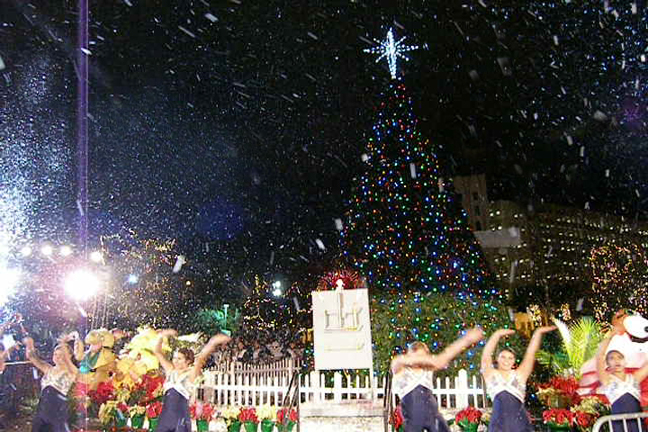 A blizzard in Tampa Florida with our Special Effect Falling Snow that lasted two hours
Photos can sometime catch snow moving in motion, which can make snowflakes look large when it's not.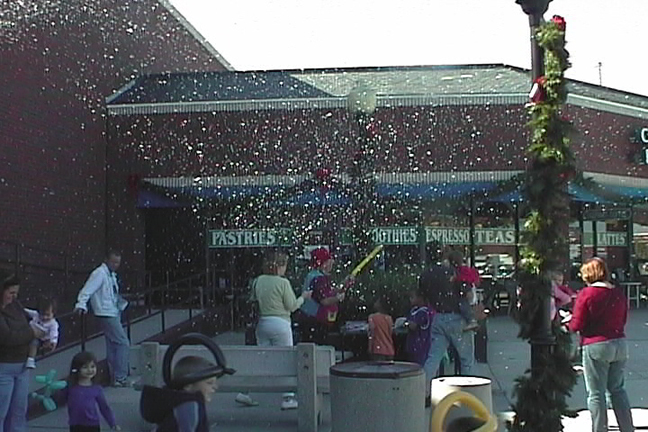 Attract new passing customers
Our Professional Mobility Snow Machine, Non DMX Package, that is two machines and an effects fan. Non DMX equipped with super pumps are used with effects fans. Our effect fan dry's out the flakes in the air and keep more snow in the air which makes the snow evaporate on cue. Non DMX snow machine have a rotary dial with a 1-10 flake control.
WE WILL ACTUALLY MAKE IT SNOW IN YOUR MALL FOR A WINTER WONDERLAND ATTRACTION!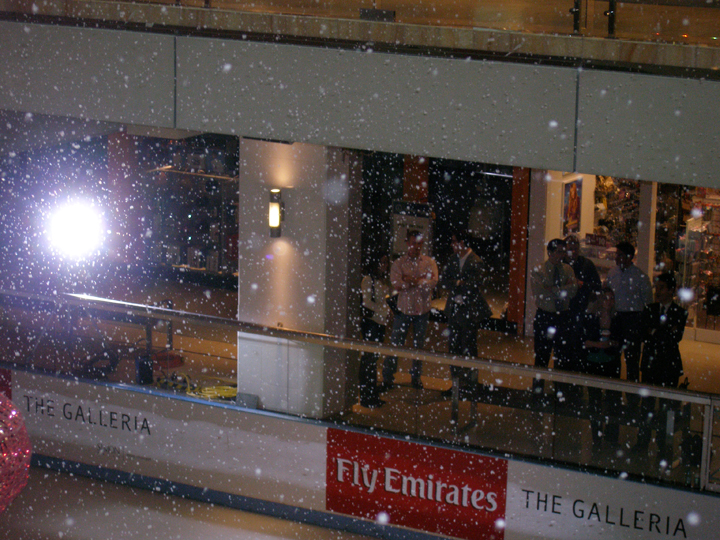 Malls and Retail shopping centers, we can design your snow falling event with the best state of art snow machines which have the highest output and range of snow spray. You can bring snow to places that never experienced snow falling; it's a proven attraction. We will design a snow that will accommodate your budget and your mall's layout and then our technicians will expertly install the equipment, and show you how our system operates with minimal effort. That's right your staff maintains your snow event with minimum daily maintenance. The show will automatically start and end at the correct event times. We have pumping stations that can draw fluid from a 55-gallon drum over 300 feet to the machines. We do not need to have a tech on site for your event that saves you money. Our machines are weather resistant needs a visual check once a show.
Nationwide Weather Forecast for Retail Centers December; Nightly Snowfalls
A friendly way of promoting the mall and gaining newspaper coverage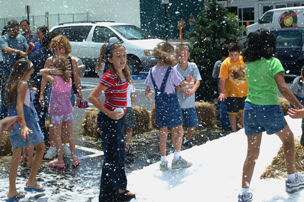 See the Media attraction that Snow can draw
Watch a TV segment that happened at a Snow falling Event
Look at the media attention the Gaylord Nation Resort Made from the snow event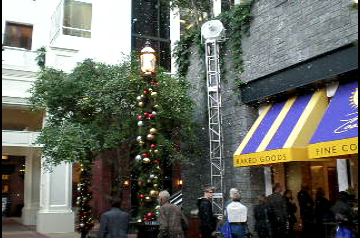 WTOP Reports on Gaylord National - Christmas on the Potomac - snow inside! Video report Click here!
Radio Spot advertisement for Snow At the Gaylord
Radio Advertisement Spot For the Gaylord national Resort
Our mega snow machine can blow snow up to 80 feet with its on board powerful blower.
"The Snow fall is one of the most magical things, the Gaylord Resort guests said, to be loving about the Christmas On The Potomac experience"
Snow for Trade Shows
Need snow in the air to gain attention, but not on the chrome such as the trucks below. We can control the snow with our 99 steps of flake control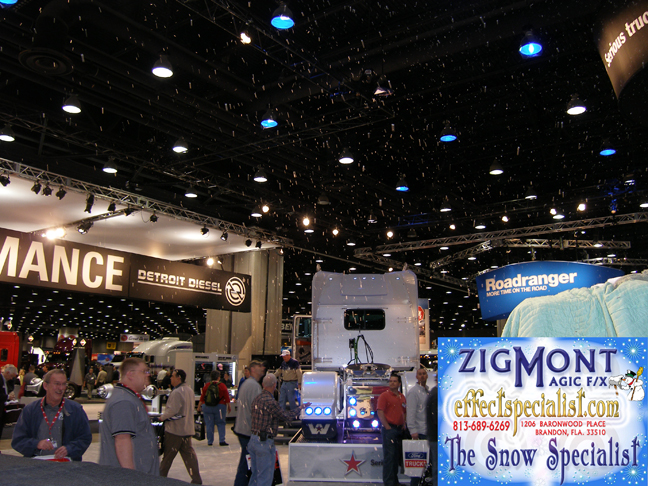 The video clips above snows our machines making lots on snow in the air buy not on the crowd on the $ 180,000.00 trucks. These machines are on step 12 of 99 steps. Lots of snow at a low setting.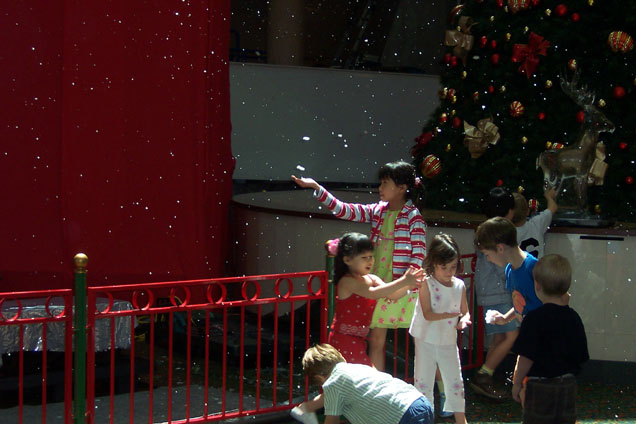 Our Snow Event Services
Our special effect snow can simulate an all out blizzard scene in the middle of July or a snowstorm flurry for a winter wonderland indoor ballroom party in December. Our snow event services can provide snow from Florida to California with snow for the holidays; we can use several combinations of our evaporating snow machines and wind machines to make that big visual impact happen at any location with True Evaporative (dry) Snow Technology.
Our snow fall events are beautiful to experience and entertaining for all of the participants.
Not only will our snow display draw patrons to your location, it's a magnet for the local Press.
Looking for a special visual ...something different, that TV stations will really focus on to show your presence? Snow is the answer. It works for Disney for many years.
It's very difficult to assess identically priced snow displays from different sources. Although it is important to compare estimates of proposed material content and caliber of the equipment the sizes of the flakes and how good the snow will look, it is equally important to consider the proven track record and quality of the team that will provide the gear and the expertise along with the enthusiasm. We are a full service special effects company providing a full range of special effects for some of the biggest name events.
We would be glad to give you a demo of our simulated snowflakes. Schedule a appointment 813 689 6269.

We are experts in snow and winter special effects for the entertainment industries. Call for day rates, package run pricing and information 813.689.6269 or e mail @ zigmont@effectspecialist.com. You'll receive the best snow service available.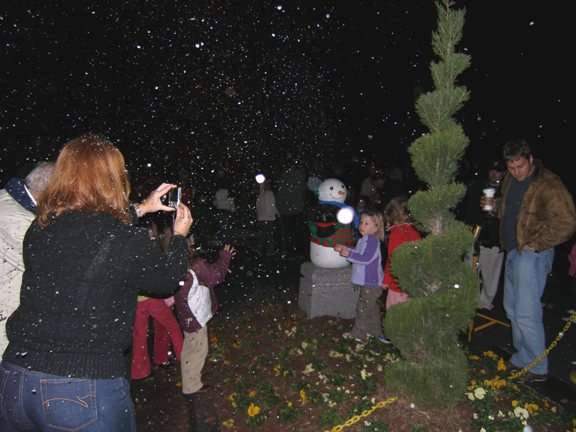 You can rent snow machines or do a rental with service, call or e mail for your price options.
Call Magic F/X 813.689.6269
Brandon Florida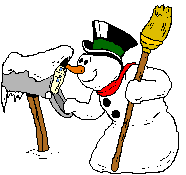 Please see side Menu for all Pages
Call Us @ 813 689 6269
Systems are Not Equal - Ever Wonder Why/Facts about Snow - SnowOption- Choices - Snow Clients
Magic F/X specializing in Fake snow events, artificial snow machines for snowfall events - full service production of simulated realistic snow falling events and indoor blowing, snow machines, snow machine that produces snowfall simulation for theatrical and visual effects , snowmaker, snowmasters, snow maker, Snow Machine Generators.
Fake Snow, Artificial Snow, snow machines, artificial snowflakes, snowflake, snow machine, snow making machine, snow masters display, snow, making snow, snow manufacturer, snow products, snow system, magic FX snow system, artificial snow,flakes, snowflakes, fake snow, fake snowflakes, plastic snow, Snowcel, holiday window displays, theatrical snow machine, snow simulation, snowfall simulation, snow machine snow maker snow machine for indoor snow shows